The funeral has taken place in Co Cork of Matthew Healy, the 89-year-old retired farmer, who died following an assault in hospital in Cork last weekend.
Chief celebrant Fr Patrick McCarthy told the mourners in St Mary's Church in Berrings that they were gathering with deep sadness in their hearts for Matthew.
In his homily, Fr McCarthy said that growing up in an era that was not mechanised, everyday life was tough and hard for Mr Healy, but goodness triumphed over hardship, for he was one of the gentlest people you could meet.
He said each person at the funeral had a story to tell of Matthew, many of them "personal to you: a fond memory, something that brings a smile to your face as you do. I have heard many of them in these last few days".
Among the mementos placed on his coffin was a photograph of the retired farmer and his late wife Delia in happier times.
Taken 13 years ago on the birth of their grandchild Matthew, Fr McCarthy said it is a beautiful picture with real joy on their faces - "may that picture, with the joy it expresses, be our lasting memory of both Matthew and Delia".
Mrs Healy died three weeks ago.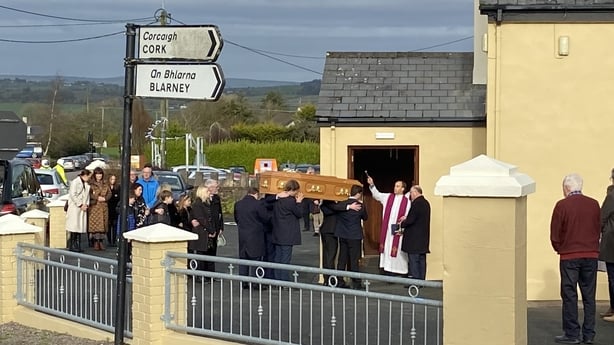 A rosary and an iPad were also among the mementoes referencing his faith and love of technology.
Mr Healy, the congregation was told, loved technology and used to be asked by the local school to record major events for them. In recent times, he used his iPad to watch mass when he was too unwell to attend.
Among the chief mourners were Mr Healy's three adult children and eight grandchildren who were supported by relatives, friends and neighbours.
The music for the requiem mass was sung by the local choir.
Mr Healy was laid to rest alongside his wife Delia, and daughter Christine in the local graveyard in a private burial.
On Tuesday, 30-year-old Dylan Magee, from Churchfield on Cork's northside, appeared before Cork's District Court charged with the murder of Mr Healy at Mercy University Hospital in Cork on Sunday morning.
Mr Magee was remanded in custody to Cork Prison to appear again before the court via video link on Monday, 30 January.