The winners of this year's BT Young Scientist & Technology Exhibition have returned to their school in triumph and are hoping that their work will bring benefits to young people in years to come.
Sixth year students Shane O'Connor and Liam Carew are preparing for their Leaving Cert at the Abbey School in Tipperary town, but will be representing Ireland at the EU Young Scientist Contest later in the year, following their win at the RDS last week.
Their project examined the impact of second-level education on adolescent development, with a particular focus on the importance of physical activity among secondary pupils and its effects on social interaction and mental wellbeing.
Over the course of the last three years they surveyed 2,500 students across the country, as well as teachers over a range of different types of schools, to track their progress from 2020 until recently.
"We looked at the varying experiences for ourselves and of our peers in our time in secondary school," Liam Carew explained today after the winners returned to the Abbey School with their trophy.
"We were wondering what impacts school had on students in terms of their mental health, their physical health and their social interactions. That was the grounds of the project and we built it from there."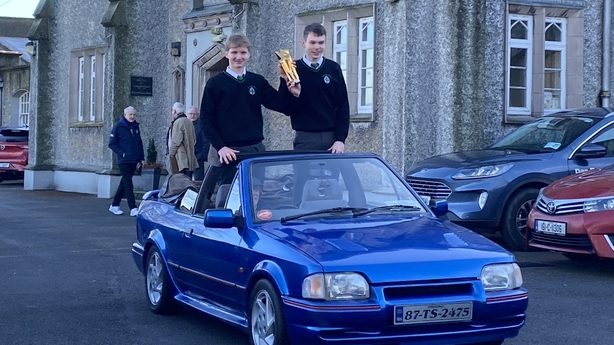 The research began at the height of the Covid-19 pandemic in 2020, and was able to monitor students' well-being throughout the Covid years.
"Overall school definitely has a very positive impact on students. Social interaction was the most heavily-impacted area among students and directly correlates with students' mental health and physical health and we saw luckily that as we move out of covid times, students' experiences are improving over the last few years."
Shane O'Connor said that they hope their research will be widely used.
"We hope to talk to the Department of Education because they're the policy-makers at the end of the day and as well as that you also have policy advisers such as the ESRI and other organisations," he explained.
"But as well as that, it can also be implemented at grassroots level because one of our key findings was that in one of the schools in the first year of the study rated quite low in terms of physical health but then in the second and third year they rated quite high because they'd introduced lunchtime sports activities, so we see that simple actions at ground level can really have massive reactions."
Their chemistry and biology teacher, Niamh McCarthy, said the findings of the students' research "are really, really interesting" for everyone in education.
"If our students are being physically challenged we actually see that there is an increase in their mental well-being as well as their social interaction with other students, which is really important for the development of the student as a whole," she said.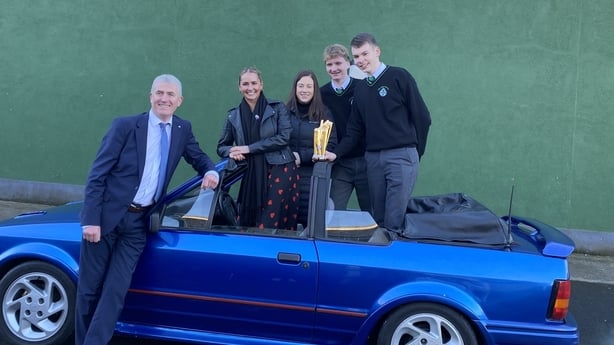 School principal John Kiely, also the manager of the Limerick senior hurling team, said Shane and Liam deserve their success.
"They've worked so hard on this for the last three years and really made it their own, they pushed all the boundaries they needed to to get the data they required," he said.
"I'm very happy for them and their families, it's a fantastic achievement for them and a unique achievement for the school so we're really delighted."
The work has wider significance, particularly in light of Covid.
"For the last three years it's been a really challenging time for young people and this documents that," Mr Kiely said.
"The social aspect of young people's lives in particular was really significantly affected and their interaction with schools and the appreciation for the support that school has for young people throughout their lives, particularly during those formative years when they're in secondary school, is really significant and students missed that during the Covid experience.
"Now that we're coming out of it, the significance of it is all the more pronounced for young people and they recognise the importance it has and express it in the survey."