More than 10,000 volunteers here are giving up part of their weekend, picking plastic and litter from over 500 of the country's beaches and coasts.
The Big Beach Clean is part of the world's largest coastal clean-up.
Proinsias Ó Tuama spent the morning preparing for a busy day at Ardnahinch in east Cork.
He established Clean Coasts Ballynamona in 2015.
Since then, he and the volunteers who join him have collected more than 100 tonnes of marine litter from the beaches between Youghal and Cork city.
"We have to do it," Proinsias told RTÉ News. "We have to engage."
Proinsias was at the beach clean with his six-year-old son, Ódhran, and his daughter, Réidín, who's three and-a-half.
"We are talking about tonnes of litter that are entering the oceans every year, every minute - even as we are talking here now, there's lots of litter going in somewhere in the world. If it's not washing up here, it's washing up somewhere else and, eventually, it gets here."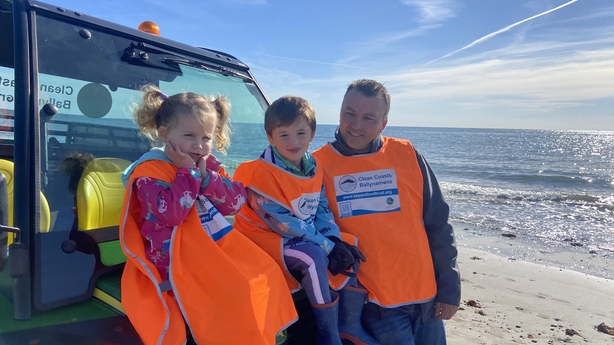 The Big Beach Clean is taking place at 540 coastal beauty spots here this weekend, with more than 10,000 volunteers signed up to take part.
Among them at Ardnahinch today were Sally O'Reilly from Shanagarry in east Cork, Karen Casey from nearby Ballycotton and Karen's eight-year-old son, Henry O'Shea.
"We are just trying to keep the beach safe for the animals and for the people. We're trying to keep it beautiful for the tourists too," Sally O'Reilly said. "Look at the place: who wouldn't want to come here - it's gorgeous!
"But you don't want to come here and see lots of rubbish on the beach and, unfortunately, sometimes that's what we see."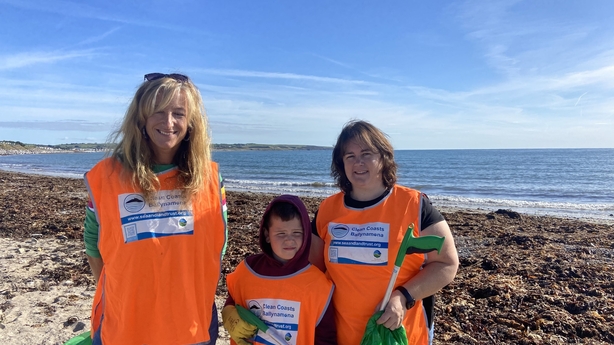 Patricia Ivers lives close to Ardnahinch at Churchtown South.
Patricia was picking litter as part of the Big Beach Clean with her sons, Ciarán and Michael.
They regularly participate in beach clean-ups of the area organised by Clean Coasts Ballynamona.
"We love the beach," Patricia says. "We live locally and we spend our summers here, so it's a nice thing to do with the boys."
This weekend's clean-up is part of the International Coastal Cleanup. The amounts of waste collected across the world are huge.
Since the first International Coastal Clean-up in 1986, over 17 million volunteers have joined local clean-up efforts to remove 158,000 tonnes of waste from beaches and coastlines the world over.
Sadly, this is just a fraction of the marine litter that finds its way into our seas.