A Dubliner who moved to west Cork 13 years ago has documented how a rainforest is now flourishing on his farm on the Beara Peninsula.
Eoghan Daltun bought the 73-acre farm overlooking the Atlantic near Eyeries in 2009.
He said: "What drew me from Dubin to Beara was a desire to have a life that's closer to nature and a place that's more in tune with the rhythms of the planet that we live on. I was attracted to this particular farm because of the presence of wonderful old trees.
"The farm had been abandoned for quite a long time and over that time, an extremely extraordinarily rich woodland developed naturally. Unfortunately, for maybe a decade or more before I came, that process of reversion to natural forest habitat had been interrupted by overgrazing by feral goats and sika deer. It was kind of in ecological meltdown really."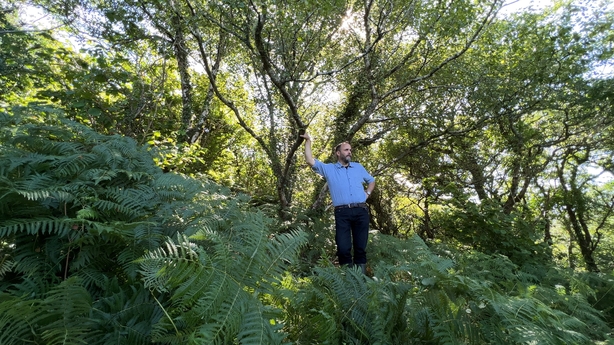 At first, Eoghan's plan was to regenerate what he thought was a native Irish woodland.
Using a grant under the Native Woodland Conservation Scheme, Eoghan ring-fenced the area to protect it from goats and deer. He also began to remove alien invasive species such as Rhododendron, Giant Rhubarb, Japanese Knotweed, Sycamore and Chilean Myrtle. Over the years, natural ecosystems began to return and thrive without interference.
He said: "The results have really been quite spectacular, with an eruption of wildflowers and native Irish trees. Essentially, the spontaneous formation of a wild natural ecosystem.
"After a few years of intense reading on the ecological sciences and woodland ecology in particular, I started to realise what I had here wasn't just native forest. It was actually rainforest. When we think or talk about rainforests, we tend to think about places like the Amazon or the Congo or southeast Asia. Those are all tropical rainforests.
"In the temperate regions you have what's called temperate rainforests. The main indicator of a rainforest is the presence of epiphytes. Epiphytes are plants that grow on trees without being rooted in the ground. The only places they grow are in regions where you get a very frequent and abundant arrival of water, from the air in the form of rain or drizzle or fog or mist. There's certainly no shortage of those conditions here in the Beara Peninsula."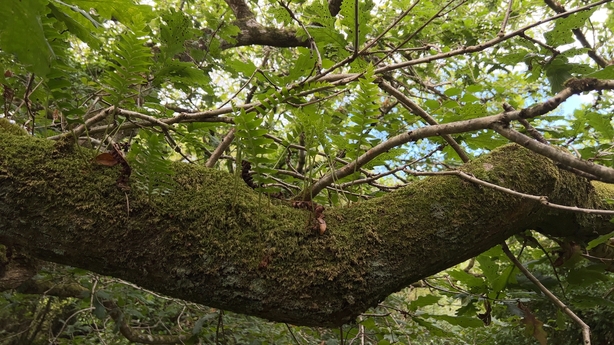 While Eoghan's patch of ancient woodland is flourishing, such examples are very rare in Ireland, where the level of forest cover is among the lowest in Europe.
Globally, the picture is also far from verdant.
According to the UN, an area larger than the EU was lost to deforestation from 1990 to 2020.
It has warned that the world needs to rewild and restore an area the size of China to meet commitments on nature and the climate. It points out that restoration initiatives can be launched by "almost anyone, from governments and development agencies to businesses, communities and individuals".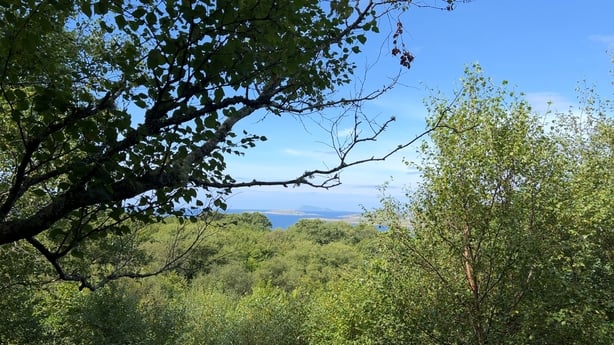 Eoghan describes his restored reserve as a "living laboratory". He has written a book detailing his experiences entitled 'An Irish Atlantic Rainforest - A personal journey into the magic of rewilding'.
He said: "The most incredible thing that has happened to me in my life is to see how nature has rethreaded the web of life all around me here in the forest. When you take away the artificial impositions that are preventing nature from coming back, it comes roaring back in a full throttle way."
"There are a number of reasons why we need to be letting wild nature come back on a really big scale, in Ireland and elsewhere. Nature is dying at a catastrophic rate. All around us, we are losing nature. And the primary reason for that is a lack of habitat.
"We have turned Ireland from an island that was once 100% covered in various forms of natural habitat such as rainforest, wetlands and wildflower meadows. We now have only fragments here and there.
"The other reason I feel that it's essential to bring back wild natural ecosystems is the climate. Natural ecosystems regulate and help keep the climate stable in so many ways. The most obvious one is the absorption and sequestration of carbon.
"But beyond the climate crisis and the ecological crisis, I think we really need wild nature for ourselves. If we lose all access to those places because they don't exist anymore, it's going to make our lives so much poorer."
In our 'Climate Heroes' series of reports, we shine a light on the people who are stepping up to protect the environment and tackle climate change. While these people come from all walks of life, they share a common purpose to improve the world around us.