Three of the world's largest ship-to-shore (STS) container cranes are about to set sail from Cork Harbour for the Port of New York and New Jersey.
Manufactured in Co Kerry, they will become the largest objects ever engineered in Ireland to be shipped out of the country.
Weighing some 6,000 tonnes in all, the three Liebherr cranes will each be 150 metres high when fully assembled on site at Maher Terminals after a sea voyage of ten days.
Unusually, the cranes are being transported partly assembled, as they will have to pass under the Bayonne Bridge connecting Bayonne in New Jersey with Staten Island, which has a clearance of 66 metres.
The upper structures - boom, beam and A-frame - will be shipped resting on the deck for the duration of the voyage.
The cranes were commissioned from Liebherr last year by US container terminal operator Maher Terminals, which is based in the Port of New York and New Jersey.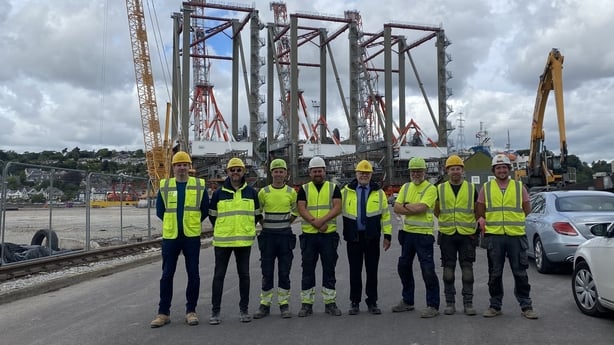 Designed and built at the Liebherr plant in Killarney, the main components were transported to Fenit and shipped by sea to Rushbrook in Cork Harbour in February of this year, according to the company's MD of Sales, Gerry Bunyan.
Mr Bunyan said the three cranes are now set to be transported on board the specialist ship, the BigLift Baffin, after a weeklong operation, which saw them transferred on to the ship's deck and lashed down.
The BigLift Baffin - which is 30 metres longer than the pitch at Croke Park - is due to set sail on its ten-day sea voyage at 4pm tomorrow afternoon, weather permitting.
Mr Bunyan says once the tidal connections are right, the transport ship will pass under the Bayonne Bridge - with a clearance of about 50cms - before it completes its short journey to Maher Terminals, where the cranes will be fully assembled and commissioned by a team from Liebherr in Killarney.
These are the third set of 'megamax' cranes to be shipped by the company from the Cork Dockyard in Rushbrook.
Previously they shipped three to Puerto Rico and a further two to the Port of Hull in the UK.
Three of the world's largest cranes designed & built by Liebherr in Killarney, set to catch the tide tomorrow from the Port of Cork bound for the Port of New York & New Jersey in the US.
More @rtenews pic.twitter.com/K83MOycYId

— JennïeØSullivân (@OSullivanJennie) August 23, 2022
These cranes will enter service alongside eight existing Liebherr STS cranes already at the port to move many millions of containers over the course of their lifetime.
STS container cranes designed and made in Killarney are used in more than 100 ports across the world.
The German-Swiss company has had operations in the Kerry town since 1958,n where it employs 780 people.