Conservationists are celebrating after a male Irish-bred white-tailed sea eagle successfully reared a chick for the first time in over 100 years.
The eagle, named Brendan, mated with a female, Black P, at Glengarriff, Co Cork earlier this year.
Their chick, which hatched around 22 April, made his first flight to the mainland at the weekend.
"Brendan has been an attentive parent, regularly bringing fish from the harbour to feed his chick who we have named Cuileann after the island he fledged from. Mum is Black P, who has been nesting in the area for several years now," explained Clare Heardman from the National Parks and Wildlife Service.
White-tailed sea eagles were once a striking element of Ireland's natural landscape but were driven to extinction on the island in the 19th Century as a result of human persecution.
The latest phase of a long-term reintroduction project, involving eagles from Norway, was witnessed by Taoiseach Micheál Martin last week.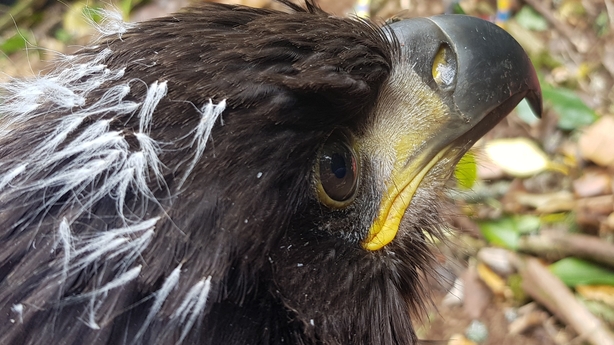 An Irish-bred white-tailed sea eagle female has been nesting on the shores of Lough Derg since 2020, but Brendan is the first Irish-bred male to rear a chick.
He is five years old, having fledged from a nest on the Iveragh Peninsula in Co Kerry in 2017.
He was named after a long serving ranger in the Killarney National Park.
"In 2020, Black P raised a chick on her own after her mate disappeared when their chick was only two weeks old. But Brendan has really played an active role in rearing this chick. We are thrilled by this news," said Ms Heardman.