It's been lying empty for years, its position symbolic as the anchor premises of a shopping district that once bustled with activity and life and is now largely empty.
But but for one week only, a former supermarket premises in Clonmel, Co Tipperary will be transformed into a vibrant theatre space.
"Everything Must Go" is the name of the new production which will be staged from 1 July at the old supermarket at the town's Market Place, with a combination of professional and local amateur actors ready to entertain visitors.
The building was once a Superquinn store, then SuperValu when that chain took over, but has been empty and disused in recent years while the surrounding area has numerous vacant shops.
Meanwhile, although it has long-standing and popular cultural venues such as the South Tipperary Arts Centre and the White Memorial Theatre, Clonmel finds itself with challenges when it comes to mounting certain events and performances.
"The fact that the community of theatre-markers and performing artists who work here is strong is a testament to their ingenuity and talent," says Clíona Maher, artistic director of Clonmel Junction Festival.
The festival organisers came up with a solution of sorts in recent years - the Junction Festival Dome - which over the coming days will host a range of theatrical events.
These include the hurling-themed Pucked by Cathal Ryan and directed by Jack Reardon, premiering at the festival and co-produced with the Source Arts Centre in Thurles.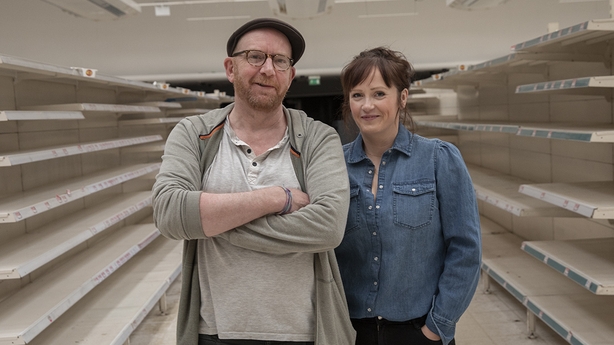 Also premiering at the dome will be the festival co-produced Trish McAdam film iGirl, based on the Marina Carr poem, and starring Eileen Walsh, Cathy Belton and Brian Gleeson in a talented cast.
Another theatrical co-production, this time with Callan's award-winning Asylum Productions, tackles the space issue head-on by using that empty supermarket.
"Donal Gallagher and Aideen Wylde [co-authors of the show] went out and talked to people to see what issues engaged Clonmel people on the street. Overwhelmingly the response came back 'empty shops'."
Following discussions with property owners Remcoll, facilitated by local councillor and estate agent John FitzGerald, the former supermarket has been made available for the show that's described by Aideen as "part fantasy tour, part flash mob, part choose-your-own adventure!"
She adds: "The venue is hugely important in this case, and we've been visited by local people who worked here before, with the fondness Clonmel people have for the site because of its history."
Meanwhile, Music Alliance Ireland is a grouping of national music organisations and companies that have come together to establish a collective voice for the music sector in Ireland.
Their first meeting outside Dublin will take place at Clonmel Junction Festival where they will engage with the music community in Tipperary, explaining what they are up to and listening to feedback.
The theme for Clonmel Junction Arts Festival 2022 is Hidden Histories.
Uncovering stories from the local area with writers, theatre makers and musicians, the festival will showcase emerging authors writing about artefacts in Clonmel's Hidden History Museum.
Young musicians will be taught songs that would otherwise be forgotten with Music Generation Tipperary.
A major focus of these stories is the past – and future – of the ghost buildings of the town.
"We are really delighted by this year's programme," says Clíona Maher, "not only because we will get to see it live and in person but because we are creating so much new work of a high calibre as well as bringing great acts, artists and performers to Clonmel."
Clonmel Junction Arts Festival runs from 1 to 10 July and the box office is already open, with tickets also available online.