Archaeological investigations at the site of a former pub in Co Cork have revealed new insights into the history and evolution of the city.
The discoveries at the site of the former Nancy Spain pub on Barrack Street related to two separate periods of Cork's history.
One discovery relates to the burials of six people, whose remains were first found late last year.
It was previously understood that the remains were more than 70 years old, but small fragments of bone taken from two of the skeletons for radiocarbon dating have now returned dates from the period between AD 1447 and 1636.
The skeletal remains of four of these individuals were found in a mass burial pit and appeared to have met a violent end.
It is hoped that ongoing post-excavation work will provide greater clarity and accuracy on the burial date.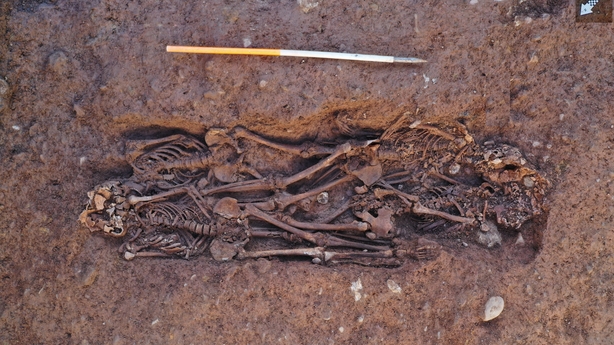 Osteo-archaeologist Niamh Daly said the context of the burials and the way they were placed in the burial pit indicates that they were "not treated in a respectful manner".
She said the manner in which they were buried suggests that their hands or wrists were tied behind their backs.
"And it is likely that the feet/ankles were also bound," she added.
Post-excavation work is ongoing but laboratory analysis suggests all six individuals were male. It is understood three were aged between 18 and 25.
The period of death indicated by radiocarbon dating was a turbulent and violent time in Irish history, with Munster and Cork the focus of several significant events - such as the first and second Desmond Rebellions and the Nine Years War.
Whichever event led to the deaths of those discovered on Barrack Street, it is likely, based on the nature of the burial positions, that they met a violent end.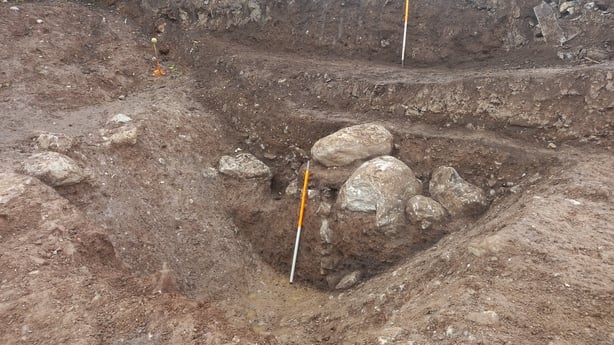 The other discovery relates to a previously unknown defensive cut feature, or a ditch, which has been dated to the period between the early 11th and mid-12th century.
City archaeologist with Cork City Council Ciara Brett said the uncovering of the ditch feature is a "highly significant archaeological discovery for the city of Cork".
She said the area formed part of the suburbs of the medieval city.
"The ditch, which is exceptionally large in size, was not known about prior to excavation," Ms Brett said.
"There is no record in the historical sources, neither documentary nor cartographic, of the existence of such a substantial feature in this part of the city."