The jury in the trial of a 38-year old woman who is charged with the murder of two-year old Santina Cawley in Cork three years ago has suspended its deliberations for the weekend and will resume on Monday.
Karen Harrington, with an address at Lakelands Crescent, Mahon, in Cork, has pleaded not guilty to the murder of the child at an apartment in the city almost three years ago.
The jury had been deliberating for just over an hour when Mr Justice Michael McGrath told the jury of seven men and four women he was adjourning until 10.30am on Monday.
Santina Cawley was found naked and critically injured by her father on the floor of Karen Harrington's apartment in the early hours of 5 July, 2019.
She was rushed to hospital, but died there four hours later, in the arms of her mother, Bridget.
She had suffered a severe brain injury and trauma to her body inflicted by blunt force.
In her evidence, Karen Harrington accepted she was alone with Santina for more than two hours after the child's father, Michael Cawley, left and walked into Cork city centre.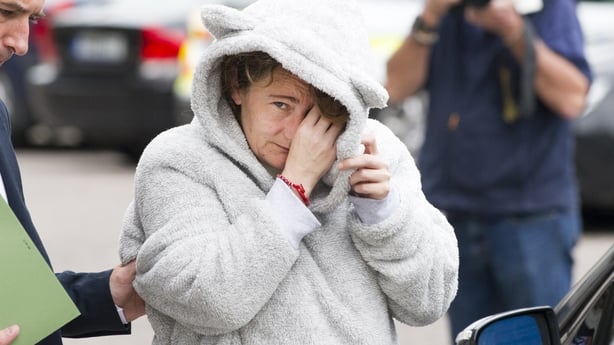 She said she did not murder Santina Cawley, but could not say who did.
In his closing statement to the jury, Prosecuting Counsel Sean Gillane described her account as doughnut-shaped, with a massive hole in the middle.
Ms Harrington's Counsel, Brendan Grehan, in his closing statement, said she had consistently denied she was responsible, and there was no onus on her to prove who was.
Mr Justice Michael McGrath urged the jurors to analyse the evidence clinically and dispassionately.
The jury retired to consider the evidence just after midday and had been deliberating for an hour and 14 minutes when Mr Justice Michael McGrath called the jury members back to the court room and said he would adjourn until Monday morning.