Volunteers in Co Kerry are providing transport for Ukrainian refugees who need to attend vital medical appointments.
The Social Car Initiative, operated by Local Link Kerry, involves a group of on-call volunteers who bring people to medical, dental and other appointments if they cannot access public transport.
Jackie Landers, CEO of Listowel Family Resource Centre, said that without the service, Ukrainian refugees would face serious issues and that transport is a major issue when they find themselves placed in accommodation in rural parts of the county, including North Kerry.
The Social Car Scheme is needed, she said, because of a lack of frequent rural transport.
We need your consent to load this rte-player contentWe use rte-player to manage extra content that can set cookies on your device and collect data about your activity. Please review their details and accept them to load the content.Manage Preferences

Speaking on RTÉ's Morning Ireland, Ms Landers said: "Transport is a huge issue around all of Ireland - particularly in rural areas. Local Link Kerry have been very good they provide two services during the week on Tuesdays and Thursdays, which was already there. That's now increased to include Saturdays.
"Outside of that if we have someone who has emergency dental or hospital appointments we are very lucky to have the social car scheme in North Kerry. It is run and managed by Local Link Kerry and run by volunteers from the Ard Chúram Day Care Centre in Listowel.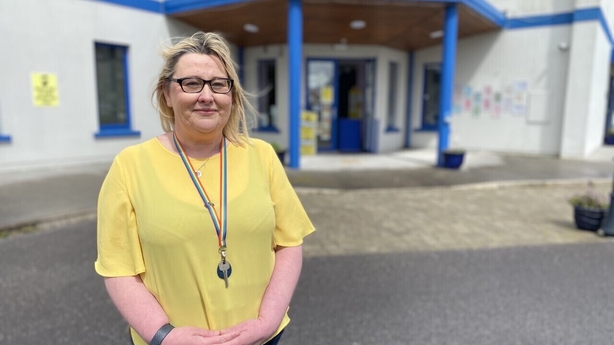 "If I have somebody who needs a medical appointment I would ring the social car scheme and ask is somebody available. They would come then and take them to that appointment and wait for them and bring them back. Without that we would have very serious issues here," she said.
The scheme has brought Ukrainian refugees to appointments in recent weeks. One woman who is living with her children and sister-in-law in Tarbert said that public transport in Ireland is expensive and inadequate. She said the social car scheme was essential for her to attend treatment recently.
"To be honest it is not always accessible especially if you live in a rural area," said the woman.
A volunteer driver, Tom Pierse, said the social car scheme - which also provides services for people at the Ard Chúram Day Care Centre - is for people who need "special transport".
"Sometimes people need special transport on a day that does not suit the buses in the area. Mostly it is to do with medical appointments that are at awkward times," said Mr Pierse.
He said driving Ukrainian refugees is enjoyable.
"I feel strongly about the Ukrainian war. I am interested in politics and history and I find [Vladimir] Putin very offensive in the way he has approached this," said Mr Pierse.
Listowel Family Resource Centre - like 121 other family resource centres throughout Ireland - is providing supports to Ukrainian Refugees.
"We provide a lot of support to families, communities and individuals in our catchment area. That can take the form of parenting programmes, counselling and other services.
"Family resource centres are really important in providing grassroots supports to all families. Our friends and families fleeing the war in Ukraine are now part of our communities. Unfortunately, we are doing it with no additional resources," said Ms Landers.
She added there are additional services for Ukrainian refugees.
"We provide a lot of additional supports. We want to provide a very warm welcome. We are a contact point for information and advice because they are coming here knowing very little around how the Irish systems work.
"Trauma is starting to come out now and starting to be spoken about and we are offering soft therapeutic supports through initiatives like art projects, gardening projects, yoga.
"As with everybody in Ireland psychological supports are very difficult to access. They are not really there at the moment with the exception of going to the GP for referrals for maybe child and adolescent mental health services," she said.
She added another barrier to counselling for Ukrainians experiencing trauma is language because many Ukrainians do not speak English.
Local Link is a nationwide bus service that provides public transport in rural areas in the country. It was created for the purpose of addressing rural social exclusion in area where there were limited bus services.
The service is funded through the National Transport Authority. The Social Car Initiative was originally a pilot scheme in Listowel and Tralee.