Up to 100 yachts took to the waters off Cobh today to mark the 300th anniversary of the world's oldest yacht club, the Royal Cork Yacht Club.
The spectacular was reviewed by Taoiseach Micheál Martin who joined the club's Admiral Colin Morehead and the Minster for Foreign Affairs Simon Coveney on the deck of LÉ Roisin, anchored alongside the Irish Naval headquarters at Haulbowline Island, where the Water Club of the Harbour of Cork (now the Royal Cork Yacht Club) was founded back in 1720.
The maritime parade had been scheduled to take place along with a number of other events last year but had to be cancelled due to Covid-19.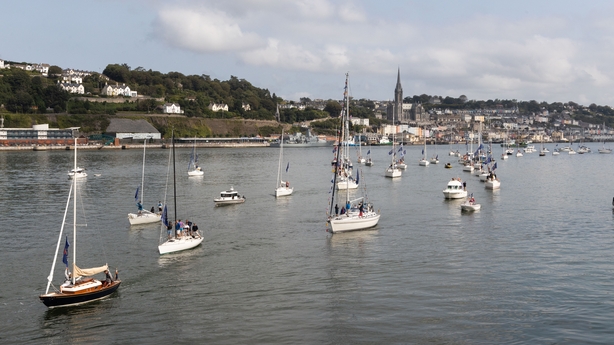 Speaking afterwards, Taoiseach Micheál Martin said: "The Royal Cork has positioned Cork Harbour as one of the most desirable locations in the world for sailing events, and hopefully this will help secure Ireland's bid to host events like the America's Cup here."
Minister for Foreign Affairs Simon Coveney said Ireland will know by 17 September if it has been successful in its bid to host the America's Cup here.
RCYC Admiral and Chairman of Cork300 Colin Morehead said the club was delighted to put on a weekend of celebratory events to mark the club's tricentenary one year on.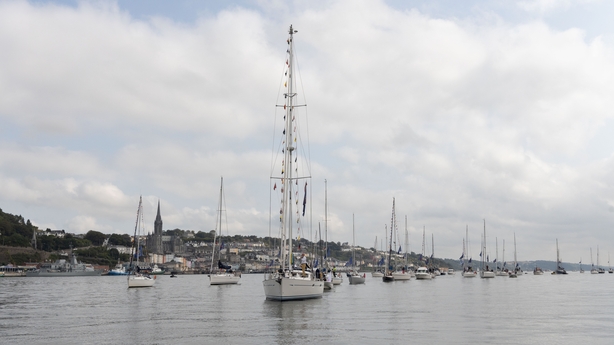 "We are of course disappointed not to be joined by our international comrades and thousands of spectators as originally planned, but we hope we have left them with a desire to visit Cork when life returns to normal."