Paul Tangney pulls his horse Gonzo and his jaunting car out of the quaintly-named Hah Hah, where the jarveys ply their trade in the centre of Killarney, onto Mission Road and heads for Killarney National Park and Ross Castle.
The clippety-clop of the horse's hooves on the asphalt hasn't been heard for months - its return is welcome and quite symbolic.
The return of the horses and the jaunting cars means the tourists, too, are on their way back.
Paul has been a jarvey for 40 years. He explains the importance of tourism to Killarney. It employs a quarter of the population directly, and virtually everyone feels the spin-off indirectly.
Hotels, B&Bs, self-catering accommodation and hostels are have reopened, as the gradual lifting of Covid-19 restrictions on the tourism and hospitality sector begins. Our Southern Editor, Paschal Sheehy, reports from Killarney, Co Kerry. | Read more: https://t.co/zvEmpifY32 pic.twitter.com/G5aIT5EfD2

— RTÉ News (@rtenews) June 2, 2021
Ireland's incredible natural beauty is the cornerstone of its tourism industry which - pre-Covid-19 - was worth €9.5 billion per year and employed more than a quarter of a million people.
In Kerry, tourism touches every corner of the community and the impact of the virus is estimated to have cost the county 400 million euro last year alone.
"It's been strange times for everyone here in Killarney for the last 15 months," Paul Tangney explains.
"Having no tourists, atmosphere missing from Killarney - especially this time of year - it's very different but, hopefully, from now on we will be welcoming back all our Irish visitors and hopefully, in the near future, some international guests."
Paul's sister Laura is a fifth-generation jarvey and runs the family business of eight jaunting cars.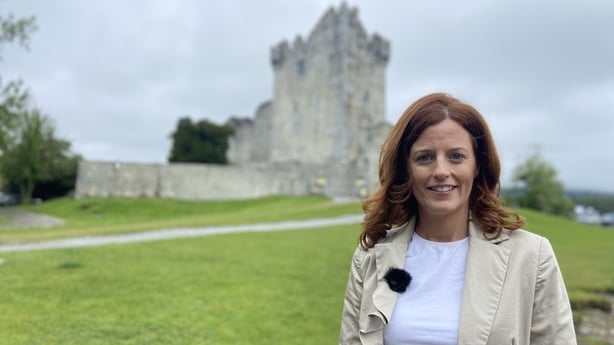 "Look, we're here busy rolling out the green carpet now," Laura says, as the accommodation sector reopens in Killarney and across the country.
"We look forward to welcoming the Irish back to us. We had a good eight weeks last year when they did come to see us and it was great to see the announcement of international travel coming back in July. We have to put Covid behind us now, get on out there and get back to work."
Niall and Dermot O'Donoghue own the 30-room Old Weir Lodge guest house on Killarney's Muckross Road. Both are convinced tourism will bounce back from Covid-19.
"You have beautiful hotels, you have beautiful restaurants, more importantly you have the National Park, the Lakes of Killarney and the mountains. You have the whole infrastructure for tourists to come to, whether they are a person of my age in their 70s or a person of Niall's age - there is something for everybody here."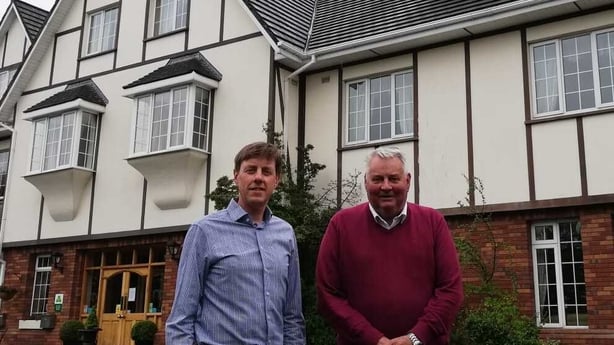 Dermot's son Niall says the pandemic has been particularly difficult for staff at the guest house, and those working in the wider tourism sector.
"It has been tough, and it's been tough for the staff. We have kept in touch with them and we are delighted to see them back in the last few days - it's great to have them back," Niall says.
Husband and wife Dave and Mary Gibson from Dublin are busy in the dining room of the five-star Killarney Park Hotel, cleaning crystal chandeliers.
The kitchen staff and head chef Sean Doyle are already cooking for guests, and there's a sense of anticipation.
Hotel general manager Niamh O'Shea sounds a note of caution, however.
"I am walking a fine line between optimism, because we have such fantastic business on the books for the coming months from the domestic market, but also a bit of realism," she said.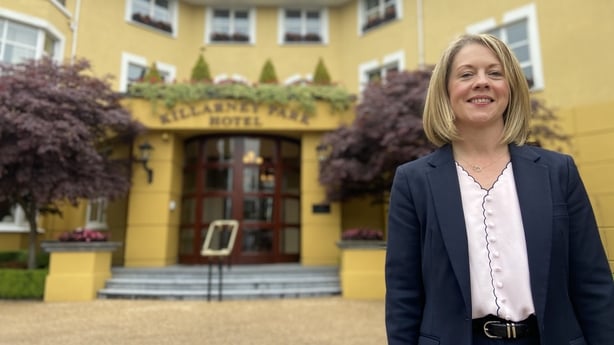 "We know the return of international travel is going to be the key to our recovery and it's a mammoth task ahead of us to get the air capacity back up to levels somewhere near what we were able to enjoy in 2019. I know Tourism Ireland have plans and are ready to go, but it's going to take time, a concerted effort and, without a doubt, it's going to need Government support."
For Niamh and her staff, the recovery begins today: "You know what, we are ready; plans have been in place for many months - just bring it on."
As the country reopens, there's evidence of hope returning, but risks remain - hundreds of millions of euro are at stake in Kerry, billions are at stake across the country, and no one can afford a fourth wave.