Clinical staff working at the Intensive Care Unit at University Hospital Limerick have come up with a simple initiative to help get to know their seriously ill patients better, and to help their families also in the process.
The Get to Know Me plan involves using whiteboard wall charts for each patient, putting simple details about them like a favourite photograph, a hobby, a name they like to be called, and interesting stories about them to help staff know them better and understand the person as well as their illness.
The details are worked on by staff in consultation with patients families as patients are often unconscious, sedated, or too ill to communicate.
The aim of the initiative is to ensure that the patient's personality, preferences and non-clinical needs are not forgotten, in the highly technical and clinical environment of the ICU where patients are frequently obscured by tubes and wires and monitors.
The initiative was developed by UHL Clinical Nurse Manager Ger Crilly who developed it as part of her Masters degree in Health sciences and intensive care nursing.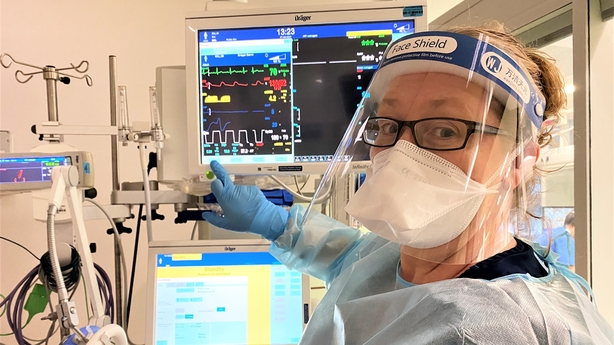 "The science behind it is very simple. We don't want our patients to be seen as the 'aneurysm in Bed 8' or the 'head injury in Bed 9'.
"We ask families to engage with the initiative, and of course respect if they decline. Through the whiteboards, staff learn a little bit about the person's likes, dislikes, interests, what's important to them, what they like to be called, and so on, and they have a sense of who the person is behind the patient.
"When a person comes into intensive care, it can be difficult to get a sense of who they are, because all the tubes, wires and equipment create a quite impersonal environment. But just by looking at the board, you might see, for example, a photograph of the person in better health, along with little details about their personality, and those insights instantly take you towards a greater sense of who this person is.
"It is so difficult during the pandemic, because families are not here, and so their input in giving us these kinds of insights into the character of the patient makes a significant difference in the quality of care that can be delivered in ICU at this very challenging time," Ger said.
Linda Daffy, Clinical Nurse Manager in Critical Care at UHL, praised the "human touch" that the Get To Know Me boards provide for healthcare professionals working in the critical care setting.
"In such a high-tech environment as an ICU, it's easy to lose sight of the person through the life-supportive measures and equipment in place.
"The higher human factors of psychological, social and spiritual care can be eclipsed and shown less priority. The Get To Know Me boards facilitate a human approach to care they're a conversation starter, and they give us healthcare professionals a privileged opportunity to have insights into a person's life," Linda said.