Water levels across counties Cork and Kerry appear to have peaked, with no further incidents of flooding reported overnight.
However, further rainfall is forecast for both counties during the day and the threat of flooding remains.
In Co Cork, the River Blackwater peaked at around 10pm last night approximately 15cm below its highest recorded level during the flood of December 2015.
Water levels remained high in the town for a number of hours, where flood defences had been erected.
There was no damage to property.
The situation in Fermoy, which is downstream of Mallow, was similar as water levels there peaked at around 6am.
Flood defences were also in place in Fermoy and water levels there peaked at 20cm below their highest recorded level of 4.48m in December 2015.
There was no damage to property in Fermoy and water levels are receding.
In west Cork, pumps were deployed in Dunmanway overnight, but no flooding was reported. There is confidence that Bandon, which is downstream of Dunmanway, will escape flooding later today.
ESB networks has restored electricity to all but a handful of customers throughout the country who lost power due to damage caused by high winds yesterday.
Some roads remain impassable in Cork and Kerry. Local diversions are in place and motorists are asked to drive with care.
A number of roads remain closed in Co Tipperary due to flooding.
In the Clonmel area, the River Suir is elevated and water levels rose during the night and are expected to peak today.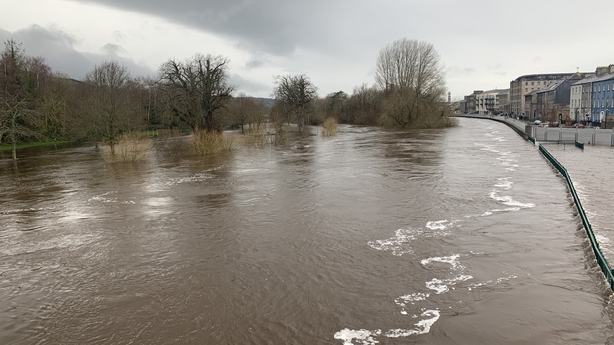 However, no properties have been flooded. The town's flood barriers are in place and the Convent Road and Dry Arch Bridge at Old Bridge are closed.
They are expected to stay closed for much of today.
Tipperary County Council said the situation is being monitored and managed.
Other road closures in the county are mainly in the Glen of Aherlow and elsewhere between Cahir, Cashel and Tipperary town.
The river Suir in Clonmel remains high and the flood plan is in place, with all barriers up. No properties have been flooded @rtenews pic.twitter.com/tmv4LdwyPT

— Conor Kane (@ConorKane0909) February 24, 2021
Wexford County Council is continuing to monitor the River Slaney levels in the Enniscorthy area.
The town's flood plan was activated last night, with sandbags made available to property owners, but flooding did not take place.
Water levels peaked early this morning in the area.
Additional reporting Conor Kane