The Covid-19 vaccination programme has now started for healthcare workers at Ennis Hospital, the University of Limerick hospital group has said.
The first healthcare worker at the hospital to be vaccinated was Dr Mary Kennedy of the Medical Assessment Unit, who received her vaccine from staff nurse Caroline Mulligan.
Dr Kennedy said: "This is a day we have all been waiting for in Ennis Hospital and the arrival of these vaccines gives us all hope that an end is in sight."
The first batch of vaccines was delivered to Ennis Hospital this morning, and it is planned initially to administer 50 doses per day to healthcare staff. A second vaccination is due for staff in three weeks.
This is part of a regional vaccination programme that will see the vaccine administered to all staff in UL Hospitals Group, the HSE Mid-West Community Healthcare Organisation and other healthcare settings.
Vaccination at the region's main acute hospital, University Hospital Limerick, got under way on Monday, and at University Maternity Hospital Limerick yesterday.
490 staff in total had been vaccinated under the programme by yesterday evening.
Plans are also under way to start vaccinating staff at Croom Orthopaedic Hospital, at St John's Hospital in Limerick city and at Nenagh Hospital.
It is estimated that 1,500 staff in the six-hospital group will be vaccinated with their first dose by the end of the week.
---
---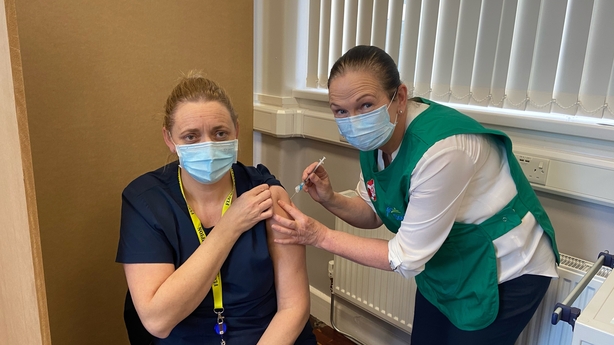 The roll-out of the vaccination campaign has also begun in Portiuncula University Hospital.
Louise Ann McGrath, a Clinical Nurse Manager, was the first staff member in the hospital to receive the Pfizer/BioNTech vaccine.
She received the vaccine from her nursing colleague, Mary Barrett, Assistant Director of Nursing and Peer Vaccinator.
More than 500 staff at the Co Galway hospital are expected to be vaccinated by the end of this week.