Clare County Council has changed the hours during which Ennis town centre will be pedestrianised and closed to cars and other traffic, following protests from some shop owners and other commercial units that it was having a detrimental effect on their business.
The temporary Covid-19 Town Centre Mobility plan was introduced by the Council last May for safety reasons to ensure social distancing for residents and the business community in Ennis town centre, which is characterised by narrow streetscapes and interconnected laneways with restrictive footpath widths.
Some business owners said however that the pedestrianisation affected footfall in the town and that some were experiencing a drop of over 50% in their commercial activity.
Up to 100 people took part in a protest through the town last week calling for an end to pedestrianisation.
Following a review Clare County Council has now announced that the streets will be closed to cars and other vehicles from 11am in the morning until 6pm from 24 September, and that cars and delivery traffic can use the town centre streets up to that time in the morning.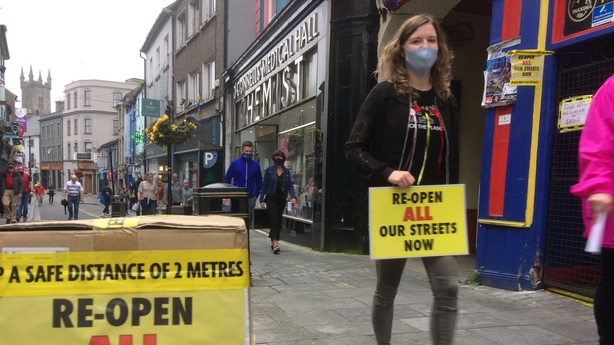 They say this is to facilitate people with reduced mobility who may need to access businesses like hairdressers and pharmacies in the morning. Businesses are also being asked to facilitate vulnerable customers at this time.
The council say this is a living plan and the changes will be monitored against the progression of the pandemic and Government guidelines, which may result in an expansion or reduction in the hours of operation.
Margaret O'Brien, CEO of Ennis Chamber which represents 159 businesses in the locality, has welcomed the changes, saying it gives the mobility plan a degree of flexibility.
"We have supported the plan from day one on safety grounds. Surveys have shown that footfall is lean up to 11am and particularly in the winter months," she said.
She added: "The closure of the streets to cars between the hours of 11-6pm is welcome, particularly at the critical lunchtime hours of 12-2pm when up to 3,000 secondary school students are in the town centre".