A well-known west Kerry musician has erected 235 wooden crosses in his field as part of an ongoing protest against rural planning policies.
Breanndán Begley claims current planning policy is "driving people off their ancestral land and squeezing the life out of rural Ireland".
The musician has been ordered by Kerry County Council to remove a wooden house, which he built on a truck trailer and parked on the family farm on the Dingle Peninsula.
The 64-year-old says he is willing to face jail rather than leave his home which has been deemed unauthorised.
Mr Begley has now erected 235 wooden crosses in his field.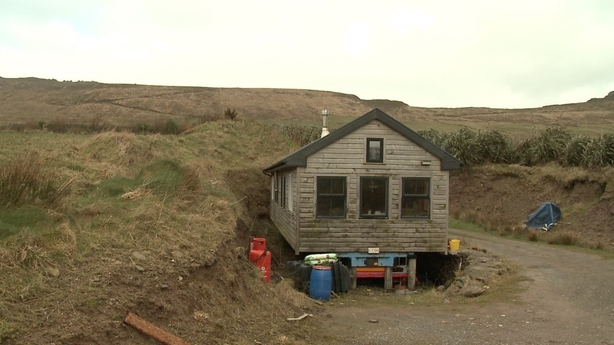 He said: "These white crosses represent all the people, 235 people, that were living here in my townland, Baile na bPoc, in 1841.
"Today, we have just 12 permanent residents left and they are represented by the 12 red crosses. Rural communities are on their knees and planning policies are squeezing the life out of them.
"We are not allowed to live on our own ancestral farms. We are being driven out."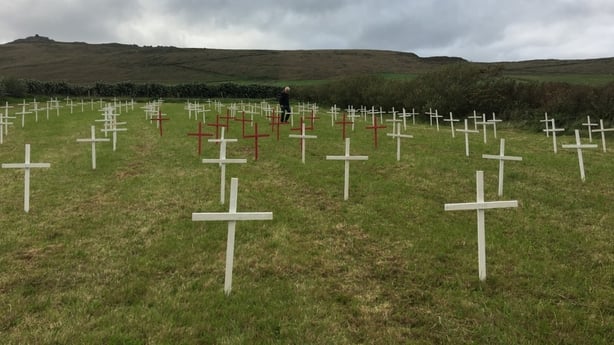 Mr Begley says he has spent 13 years trying to secure planning permission for a home in Baile na bPoc. Numerous applications have been refused.
In an attempt to circumvent the planning regulations the musician decided to build a wooden house on an articulated lorry trailer in 2015 and moved it in to the site, but the local authority says the development breaches planning laws.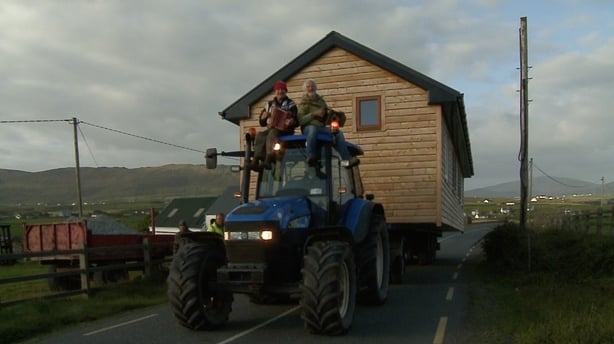 In issuing its decision to refuse retention, Kerry County Council said the structure was unduly obtrusive on the landscape and sets a precedent for undesirable ribbon development of a suburban nature in an exposed and sensitive area.
An enforcement order to remove the structure has been issued. Mr Begley now faces jail and a fine of over €12.6m if he fails to comply with the order.
The musician is refusing to do so and says he is making a stand on behalf of young people having difficulties in securing planning permission in rural and Gaeltacht areas.
"These small villages and townlands are the heart and soul of the Gaeltacht, the lungs of the Irish language.
"Planning policy is driving people off their land and in to big villages and towns. They are suffocating the language and killing communities.
"Young people are afraid to speak out because there is a power imbalance. They fear they will never get planning if they make too much noise."
The local authority, however, has refuted any assertion that it is discriminating against Gaeltacht communities.
"There were 58 planning application sites for dwellings in the West Kerry Gaeltacht between March 2015 and 31st December 2019. 43 of these were granted. 17 were refused. Therefore 70.7% of applications for dwellings in the West Kerry Gaeltacht were granted", the council says.
Kerry County Council is currently in the process of devising the new County Development Plan 2022-2028. Mr Begley says there is now an opportunity to adopt a new approach to planning policy in rural areas.
"We must act now. We have lost shops, we have lost post offices, we have lost services. Now we can't live in the place we were born.
"Gaeltacht areas and rural areas have suffered severe depopulation, but they are still places of deep roots, heritage and identity. Councils should be encouraging people to live in these places.
"The people need to rise up and fight for both the honour of their ancestors and future generations. Just because we are a small community doesn't mean we should be wiped out."