The Minister for the OPW has said he is committed to developing a flood protection scheme in Bantry but added he can not put a time frame on it.
Patrick O'Donovan was in Bantry and Bandon to see first hand the devastation caused by flash flooding as Storm Francis passed over the country earlier this week.
Fifty homes and businesses were flooded in Bantry on Monday night, while up to five houses were flooded in Bandon where a major Flood Defence Scheme is almost complete.
Mr O'Donovan said resolving the problems in Bantry is difficult as it floods both from the sea and from underground rivers.
He said: "Cork County Council and the OPW have agreed the town needs a scheme.
"The recent flood event shows the necessity for the scheme to incorporate not just flooding from the sea but flooding as well as that from these underground rivers. It is a very complicated need. "
He accepted there was an awful lot of anger locally.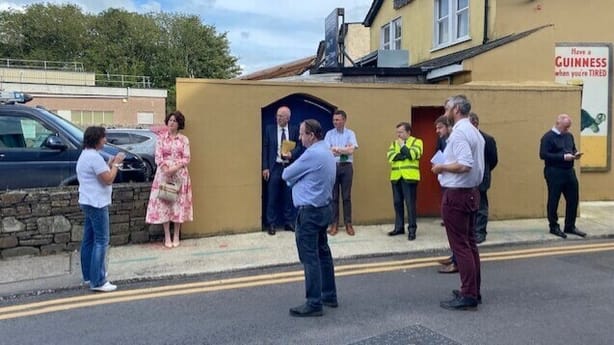 Mr O'Donovan: "The message is that we are committed to Bantry, we are committed to do a project there and we are committed to working with Cork County Council on it."
However, he said he could not give a timeframe as they do not understand as yet the complexity of the scheme.
And he defended criticism of the OPW's Flood Defence Scheme in Bandon saying if it had not been in place much more damage would have been caused to property in the town.
He said: "Were it not for that scheme being almost completed, its not complete yet, it will be completed early in the Autumn, we would be dealing with a totally different story here."
The issue arose, he said, from flooding from pipework through the town which could not cope with the flash flood.
He said a new main drainage system is currently being installed there by Irish Water, and once completed, it will prevent a recurrence of Monday night's flooding.
Among those he spoke to was Con Linehan whose Menswear shop on South Main Street was flooded for the second time in a couple of weeks.
Mr Linehan said he was very upset yesterday but he hoped that what the Mr O'Donovan said would come to pass.
Meanwhile, Cork County Council has warned that potentially thundery downpours overnight could cause additional flooding in the county given the recent heavy rainfall.
The local authority said its Severe Weather Assessment Team met today and their emergency crews remain on standby as the Status Yellow rainfall warning comes into effect for 24 hours from 1am tomorrow in Cork and across the southern half of the country.