A chartered environmental scientist with Clare County Council has said it could be Saturday afternoon at the earliest before a swimming ban on several beaches in the county is lifted.
The council, on the advice of the Health Service Executive, placed a temporary ban on swimming at a number of beaches due to increased bacterial levels in the bathing water.
Speaking on RTÉ's News At One, Cathal Brodie said it impacts the beaches at Kilkee, Spanish Point, Lahinch, and White Strand near Miltown Malbay.
He said the order indicates there is a potential for pathogens being in the water that could cause sickness, and so the water is unsuitable for bathing in.
Mr Brodie said it came about due to heavy rainfall over the last couple of days.
He said the situation is being constantly monitored, but it takes 48 hours before a positive or negative sample on water quality can be given.
Mr Brodie said the council has 14 designated bathing areas in Co Clare and if people want to find an alternative area, there are plenty available.
Some of Co Clare's most popular beaches are temporarily off-limits to swimmers. The local authority announced that a ban was being introduced due to increased bacterial levels in the bathing water, and it could be Saturday afternoon before it is lifted. | https://t.co/N3sYkzCiL3 pic.twitter.com/2mwA9n72T6

— RTÉ News (@rtenews) August 6, 2020
Local representative and Green Party Senator, Róisín Garvey, said climate change and heavy rainfall had turned our weather patterns upside down.
She called on the council to avail of financial measures to address water pollution.
"The July stimulus has millions of euros allocated for immediate action as needed for repairs and maintenance. Clare Co Co has a strong case as it is a water emergency."
Ms Garvey said continued investment in water infrastructure is required to ensure the continued supply of good-quality drinking water and the appropriate treatment of wastewater to protect our waters.
She said: "Water infrastructure deficits impact on the provision of safe and secure drinking water, lead to pollution and environmental damage, and present a challenge to achieving sustainable development across urban and rural Ireland".
Ollie O'Flaherty runs a surf school in Lahinch and he said the repeated relaxing and reintroduction of swimming bans was having a detrimental effect on businesses in the town.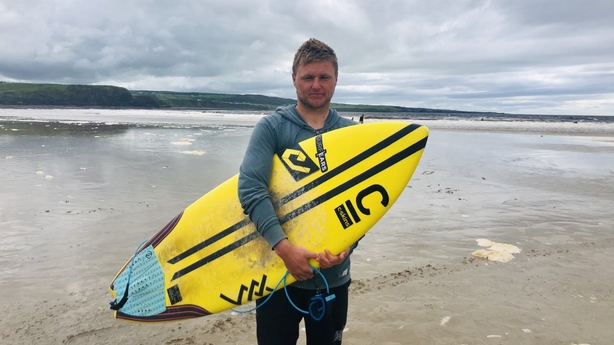 Mr O'Flaherty said: "Year after year we see these bans imposed and our businesses are suffering greatly. Everyone in the town is affected.
"Lahinch is a prime tourist resort and we only have a small window to operate at peak flow.
He added: "I have spent the day cancelling surf lessons and telling visitors they cannot swim in the sea."