Over 120 people took part in a vigil outside a residential care home on Cork city's northside tonight calling for a halt to plans to close it.
The families of 15 residents, with local politicians and staff, called on the Board of Directors who run Mount Cara on Redemption Road to keep it open.
Last month, residents and their families were told that the 25-bed facility is set to close at the end of August and new accommodation would be found for the residents.
Those taking part in tonight's vigil called again on the HSE to take over the facility to prevent its closure and the transfer of patients to other nursing homes in the county.
Among those taking part in the vigil was Phil Desmond, whose 83-year-old aunt, Josephine Murphy, is a resident.
"My aunt is here 14 years and she is devastated because she is really frightened about where she is going to be and that it will be too far away for us to visit her and so, she is very upset.
"It's a really good nursing home and there's always laughter and every time we come up to see her there is great things going on inside and she loves it. And she was here with all her friends from her neighbourhood and so she is really devastated that it is closing.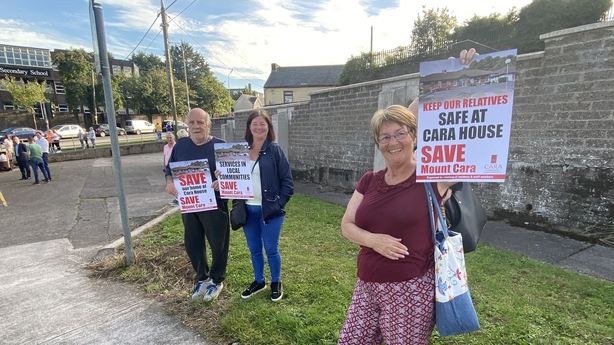 "I hope they will change their mind and find some way of keeping it open. I just think that it is a disgrace that people at this hour of their lives, that they are going to be uprooting them and that they don't know where they are going, so we are all - my sisters are above there as well, and my niece and my cousin - all of us are rooting that they will keep it open."
In a statement, the Board of Mount Cara blamed the closure on the new challenges posed by Covid-19.
"The new challenges posed by Covid-19, along with the reduction in occupancy has led to this decision. Mount Cara is a residential facility for older people and although it complies with nursing home standards, it is now covered by the Fair Deal Scheme for residents."
Mount Cara, formerly known as Cara House, provides short and mid-term respite care for up to 25 elderly people for the past 40 years.
It has charitable status and a voluntary board of directors.
In a letter to families, the Board said that the increased provision of Sheltered Housing, Home Care Packages and Home Help Supports have also impacted on the demand for the facility's services.
Majella Lynch, has worked as a care assistant at the home for the past four years and took part in tonight's vigil.
"It was opened for the northside, why shut it? It is needed; it is definitely needed on the northside," she said.
"We are not a full-blown nursing home as people are aware. The people up there don't need full-blown care so to move them to a more dependent situation we believe would be detrimental to their mental, social, physical health.
"They are in a place which keeps them safe, kept them Covid-free; we did an excellent job, why move them?".
In a statement to RTÉ News, the HSE said it is not possible for it and Cork Kerry Community Healthcare to take over Mount Cara in its entirety as it understands that the building is not suitable for the type, and level of residential care which is required into the future.
The Board said in its statement that it had taken "the hard decision" to begin winding down Mount Cara in a planned way and it would continue to keep residents' families informed "as timelines are finalised".