400 pairs of shoes have been placed on the ground outside Limerick City Hall as part of the ongoing activism about climate change by Friday's for Future and Extinction rebellion Limerick.
The organisers say the hundreds of shoes symbolise the many people who wished to come to the demonstration, but who could not gather in large numbers because of the Covid-19 crisis.
Limerick secondary school student Iona Logan said today's demonstration is part of a Europe wide week of actions by Extinction Rebellion Europe calling for radical change, and warning European governments against using bailout funds to support industries accused of causing pollution.
Tom Tarpey of Extinction Rebellion Limerick said the shoe protest respects Covid-19 restrictions on mass gatherings and the shoes are used to represent people, in particular young people and children, calling on our national and local authorities to respond to the climate crisis with the same urgency as the Covid-19 crisis.
Each pair of shoes was attached to another with green strings of wool, to symbolise that any bailout for industry must come with "green strings attached" requiring companies looking for public money during this crisis to commit to binding emissions reductions targets.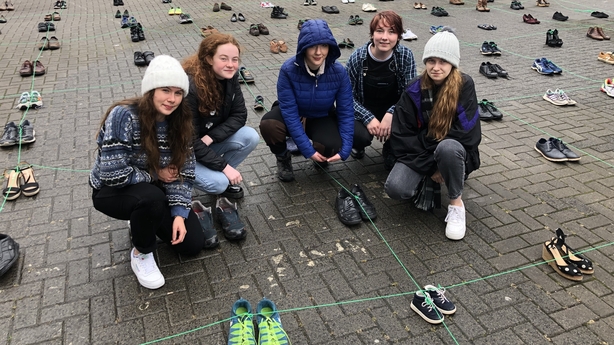 The groups are calling on the Central Bank and the Department of Finance to ensure any bailouts in Ireland are to industries that adhere to emissions reductions.
They are particularly concerned about large bailouts to the aviation industry which has been decimated across Europe because of the Covid-19 crisis, and who are now seeking major financial supports from Governments to survive.
They say we need to ensure bailouts and relief funding prize planetary and human wellbeing.
The group asked for shoes to be donated to them for their protest, and they will be donated to charity on completion of the protest today.