There is a world of distance between the east Cork harbour town of Ballinacurra and the magnificent giant white ice peninsula of Antarctica but an Irish master mariner links them both.
Edward Bransfield, who was born in Ballinacurrra near Midleton in 1785 and who went on to became a decorated and skilled naval ships master, is credited with leading the first expedition to discover and map the Antarctic mainland in January 1820.
His pioneering achievement has been marked in his hometown of Ballinacurra this weekend, with the unveiling of a stone memorial to Bransfield, to mark the 200th anniversary of his great voyage.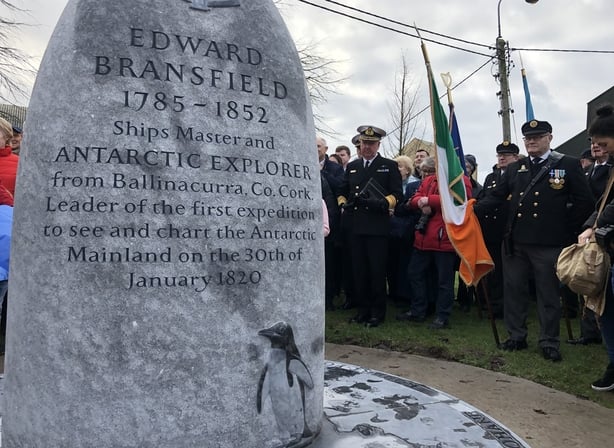 It is the first monument anywhere in the world to commemorate the achievements of this largely forgotten Irish explorer.
Edward Bransfield was the son of a fisherman which most likely influenced his lifelong interest and skills at sea.
But in 1803, at just 18 years of age, he was "press-ganged" into the Royal Navy when Britain was at war with France, when thousands of young men across Britain and Ireland were forced into service with the navy.
He rose quickly in the navy and was commended for his navigational ability and coolness under fire.
He eventually went to work in Valparaiso in Chile, from where he was given the task of captaining the Williams merchant ship to verify the sighting of uncharted lands in 1819 which became known as the South Shetland islands south of Cape Horn.
With his considerable navigational skills, Edward Bransfield led the naval team and commanded the vessel further south, and in January 1820 made the momentous discovery of the northwestern shore of the Antarctic peninsula.
It opened a new era of Antarctic exploration for legendary figures such as Captain Robert Scott, Sir Ernest Shackleton and Tom Crean who explored the South Polar region 100 years later.
The strip of ocean between Antarctica and the South Shetland islands became known as the Bransfield strait, as well as Bransfield Island and Mount Bransfield, the imposing snowcapped mountain on Antarctica.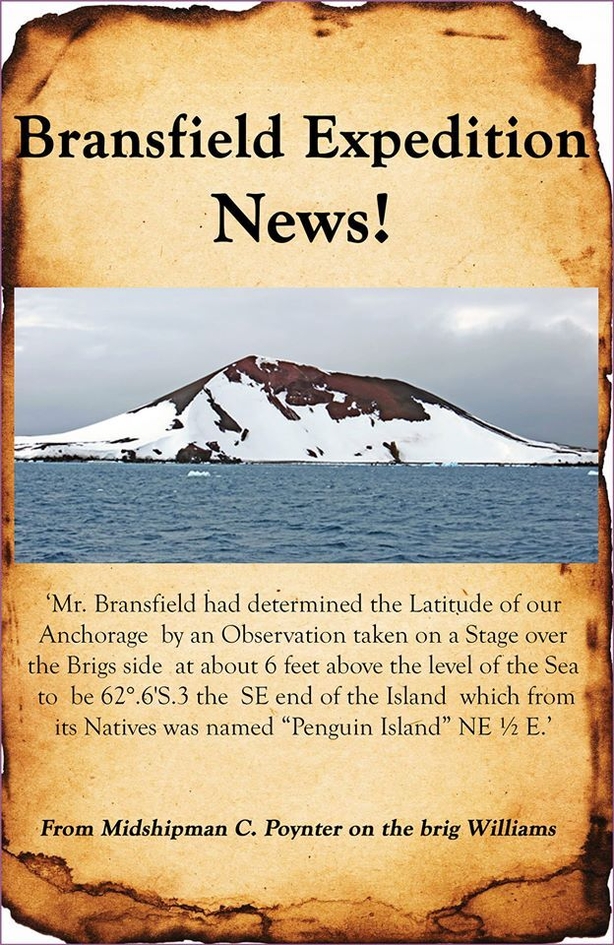 Bransfield's historic voyage of discovery only came to light in the 1990s, when a firsthand account of the journey, written by one of his junior officers, C W Poynter, was discovered among documents at the Blenheim estate in New Zealand.
A local committee was established in Ballinacurra to remember Edward Bransfield and to honour his achievement, culminating in the unveiling of a monument to him this weekend.
It is inspired by navigational markers or beacons built by sailors and fishermen to mark the entrance to safe harbours. The design of a sextant, the navigational tool used by Bransfield to navigate safely and to chart the unexplored coastline of Antarctica, is engraved into the stone, as well as a penguin, to make it more interesting for children.
The monument is located near the old harbour of Ballinacurra where Bransfield would have sailed as a young man fishing with this father.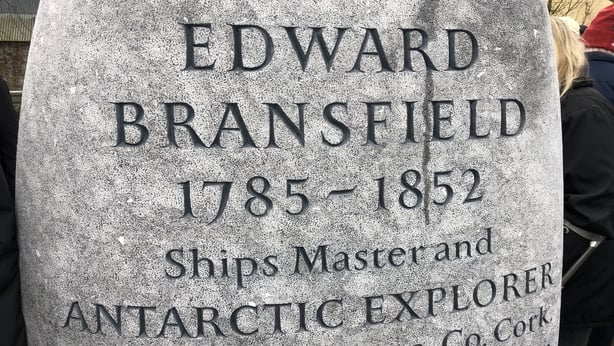 The chairman of the Remembering Edward Bransfield committee, Jim Wilson, said they were delighted and over the moon to honour his great achievements and that he is finally where he belongs, among the greats of Antarctic exploration.
"He was exceptionally brave, where he took command of a small ship and literally sailed to the edge of the world, and Irish people did not know anything about him. But this memorial places him back in the history books," he said.
Edward Bransfield had no family and no pictures or paintings of him exist, but descendants of his brother William travelled from all over Ireland and from the US to be at the unveiling ceremony.
Maureen Bransfield, from Lismore in Waterford, said the family were thrilled that his achievements were finally being honoured.
"He came from a very small place, in hard times and was exceptionally brave to sail to territories that no one had ever travelled to before", she said.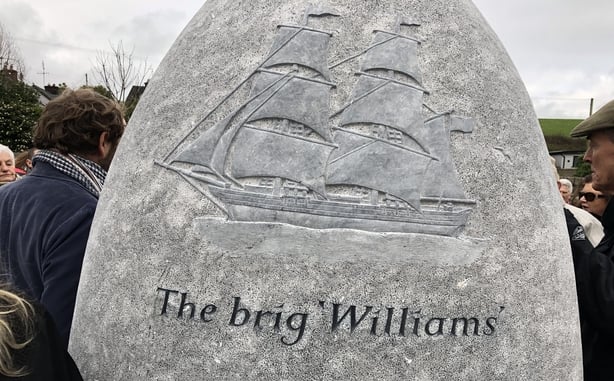 Alicia Gallow, who travelled from Boston and who is also descendant of Edward Bransfield, said she felt humbled, honoured and proud that Irish people now know what a courageous and accomplished explorer he was.
Vice Admiral Mark Mellett of the Irish Navy who also attended the ceremony said Edward Bransfield was a man of great moral and physical courage, whose maps of Antarctica and of Elephant Island were later used by Shackleton in their exploration work.
"Here was a man who explored the same territory 100 years earlier and we are only really learning of his legacy now, and it is only right that history is corrected and his achievements are placed on a pedestal where they should justly stand", he said.