President Michael D Higgins has said the world and its people are at the precipice of a global ecological catastrophe.
He was delivering the keynote address at a conference on intergenerational climate justice in Cork.
More than 200 people attended the conference, half of them teenagers.
President Higgins said the time for debate on the science of climate change has long passed.
He described climate change as the most pressing issue facing the global community.
President Higgins said climate disruption is a global issue, a national issue and a local issue for which the window of opportunity to act is closing "worringly fast".
He said the defence of previous generations, that they were unaware of the threat of climate change, will not be available to the current generation. He said that placed a moral imperative on everyone to make necessary lifestyle changes, acknowledging that some may be costly and difficult while others will be relatively painless.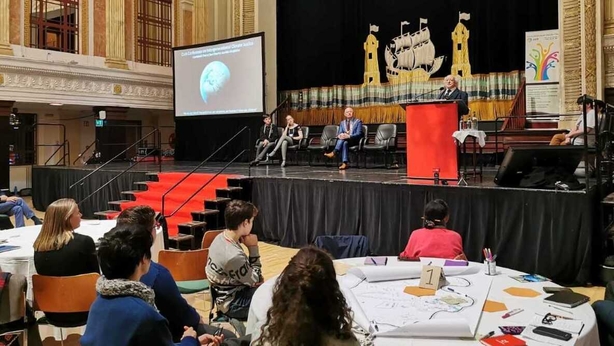 President Higgins proposed an alternative "ecological-social paradigm".
He said this model measures a healthy economy as one where the physical wealth or capital remains proportionate to its population size, and populations could continue to rise by exploiting technology to improve capital stock, rather than destroying limited natural resources to do so.
He said accepting this paradigm would ensure that humanity flourishes within the resources of the planet.
President Higgins said socio-economic measures would be required in the short and medium term to offset adverse impacts.
He said climate change is having a knock-on effect on nature and biodiversity and both were now in trouble, with land, ocean, atmosphere and biosphere being altered at an unparralleled rate.
He said there was an onus on everyone to take ownership of climate disruption and biodiversity loss. This, he said, was not an option but a moral obligation.