He is most likely Ireland's oldest silage contractor.
86-year-old Séamus Devane still works a full day, often in sweltering heat, and cuts well over 25 acres of silage every day.
He is one of the best known and busiest contractors on the Dingle peninsula and is part of a large family business which operates a fleet of modern tractors, mowers and trailers.
Séamus is entrusted with mowing the meadow - the first and arguably the most important step of the silage-making process.

"There's fierce skill in it. The skill is you have to keep the blows together. We do double 'blows' so you knock two rows of grass on top of one another. And you have to make sure the rows are straight and tidy for the machines that will come to pick it up and bale it. And if you don't you'll hear about it the following day.
"They'll be asking you 'why did you cut that auld field that way and why didn't you do it this way instead of that way.' You have to keep the farmer happy. Some people can be very fussy. But they are right to want the job done properly."

Over the course of this year's silage season Séamus alone will mow over 800 acres.
"I really enjoy it. It would rise your heart like"
Today's technology is a far cry from the very first tractor he drove in 1947.

"The first job I did with a tractor was cutting barley below in Mickey Casey's. It was 1947. She was a Ferguson tractor and she was petrol. I was 14 years old. That was the time of the compulsory tillage, the time of the war. You had to set so much grain to feed people because people all over the world were starving after World War II.
"And the petrol was about two shillings a gallon that time and the government paid half so that the contractor could afford to do the work for the farmers. I started cutting silage with my first tractor harvester in 1951. She was three feet wide. Myself and my father went at it. We're going ever since."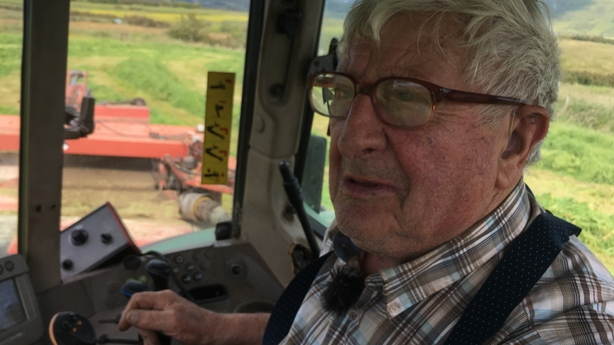 Séamus remembers the introduction of silage to the area. Up until then, hay had been the winter staple for the animals.

"When I was young it was all cocks of hay and things, but there was an agricultural instructor who came to Lispole in the mid 1940s and he introduced silage for the first time. You'd dig a hole in the ground and trample it with a horse. I tried it inside in a barrel with blocks on top of it and it turned out alright."

Séamus has seen many changes over his time but has always believed in embracing modernisation.
You have to love this 86 year old's take on life. Séamus Devane is possibly Ireland's oldest silage contractor. Cuts 25 acres a day. Drove his first tractor in 1947 when he was just 14 years old. His energy, love and enthusiasm for what he does is inspirational. #WestKerry pic.twitter.com/cQRpi4rIOK

— Seán Mac an tSíthigh (@Buailtin) July 5, 2019
"When I started it was all horses, everything done with the horse - mowing, ploughing, harrowing. Nowadays the machinery we have is worth hundreds of thousands of pounds. It's an awful change since the early days. But we seem to accept it. My philosophy has always been to go with the change. You can't be left behind".

Three generations of the Devane family help run the business, with Séamus' son Tomás now in charge.

"I have five sons and three daughters and they all have a love of farming thank God. I keep them around me. They were never much in to school and things but they loved the farming side of things.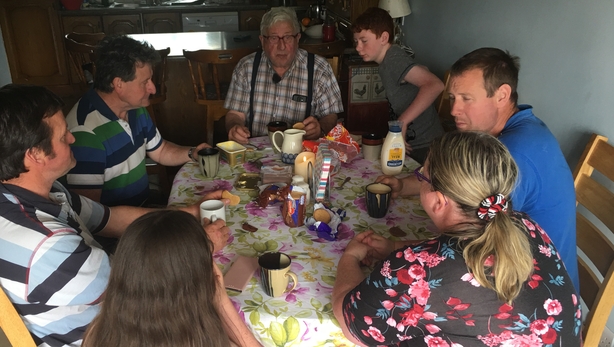 "I'm lucky, it's nice to have them around me. Sometimes they're a bit of a nuisance but I suppose you can't beat your own when it comes down to it."
"I love the smell of the grass. It makes me feel young"
Given his age Séamus is very conscious of his limitations but he finds it hard to curb his enthusiasm for the job.

"I have been talking to my doctors about it and their advice is to keep going at what you're doing but reduce it gradually and don't overdo it but I'm inclined to overdo it all the time. Instead of cutting ten acres in a day I might finish up cutting 25 acres."

"There's so many people my age that are sitting inside in chairs inside in the corner looking out the window or inside in the hospital. I have great pity for those poor people. For me fortunately, so far, I can still paddle around."

Séamus says he has no intention of retiring. He firmly believes the key to a long and healthy life is to remain active and that he is fortunate to be doing something he loves.

"I really enjoy it. It would rise your heart like. I suppose 'tis something I have been at so long. I've been cutting grass since I was able to drive a tractor and even before that with horses. I've seen the improvements over time and I'm still happy with what's going on. And I love the smell of the grass. It makes me feel young."