An inquest has returned a verdict of accidental death in the case of a couple from the US who died after the pony and trap in which they were travelling went off the road into a ravine in Co Kerry.
Rosalyn Joy Few, 64, and her partner Normand La Rose, 62, who was originally from Canada, were killed in the incident at the Gap of Dunloe on 9 April 2018.
The inquest in Killarney heard the couple were on holiday in Ireland with Ms Few's daughter, her son-in-law and her two grandchildren.
On the day of the accident, they took a boat trip from Ross Castle through the lakes of Killarney to Lord Brandon's Cottage, followed by a trip on a pony and trap through the Gap of Dunloe. The party travelled in three separate carriages.
As they descended from the Gap of Dunloe, close to a place known locally as The Iron Bridge, the horse pulling the first carriage in which Ms Few, Mr La Rose and ponyman Dan Casey were, lost traction on steep ground and was pushed off the road by his momentum and by the weight of the carriage and passengers.
The carriage plunged more than three metres into a ravine.
Ms Few and Mr La Rose suffered severe brain injuries and died. Mr Casey escaped injury when he jumped from the carriage before it plunged into the ravine.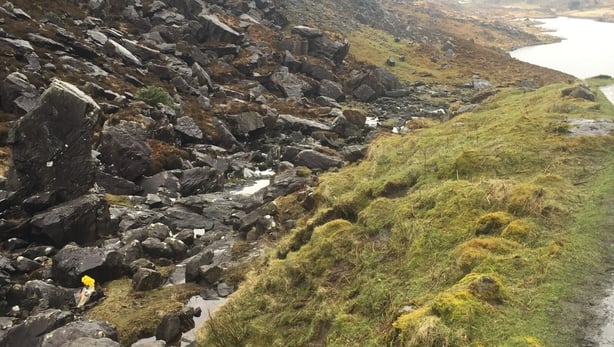 Mr Casey told today's inquest the horse had bolted without warning.
Coroner Aisling Quilter was told the horse had recently been reshod and the trap had been serviced less than four months before the accident.
Garda forensic road crash investigator James O'Brien said a barrier at the side of the road would have been effective, while brakes on the carriage would have been even more effective.
The jury returned a verdict of accidental death in both cases, adding a recommendation for a barrier to be erected where the accident occurred.
Afterwards a solicitor for Ms Few and Mr La Rose's families, Adrian Hegarty, said they wished to thank the people of Killarney for their support.
Mr Hegarty also called for the jury's recommendations to be acted upon.
A file on the garda investigation into the couple's deaths was sent to the Director of Public Prosecutions who decided that no prosecution should be brought, while the Health and Safety Authority said it would not be making any recommendations arising from its investigation into the fatal accident.