A traditional west Kerry naomhóg, which capsized off the coast of Portugal two years ago, is being restored in honour of a man who died aboard.
The Naomh Gobnait boat completed the Ireland to France Camino by sea over three summers, but on its way down the coast of Portugal in 2017, a five-storey-high wave struck at the mouth of the River Minho.
The boat, which had four oarsmen on board, capsized, and resulted in the tragic death of poet and farmer Danny Sheehy, from west Kerry.
Now, Danny's fellow crew members and a boat builder have returned to repair the naomhóg in his honour, following a request from a leading heritage society in Galicia to put the vessel on permanent display in the maritime museum in Vigo.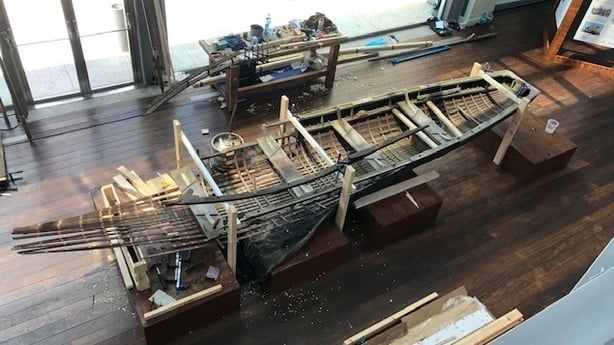 The boat, built in Ballyferriter as a symbol for a new way to undertake the Camino pilgrimage, has also received interest from parties in the pilgrim destination, Santiago.
Liam Holden, who co-built the naomhóg with Danny Sheehy in 2010 and 2011, and who was one of the original Camino crew, said the bow took the brunt of the wave and had been badly damaged from Danny's seat up.
---
Read more
The Camino Voyage: a spirited, heartwarming documentary
---
New timber, as well as the traditional heavy cotton canvas, was being used to repair it.
Liam, along with Breanndán Begley, Brendan Moriarty and Padraig Ó Duinnín, began working on the vessel last week in Vigo, where it had been stored since the tragedy.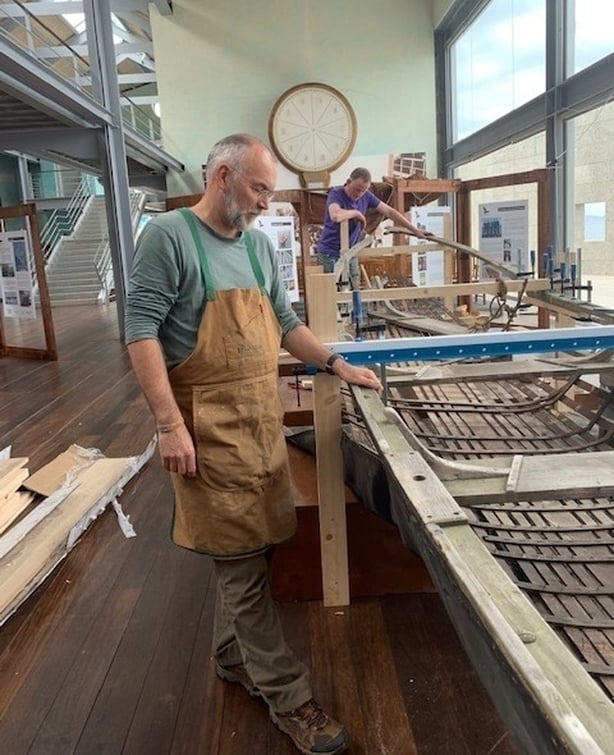 Mr Holden said the links between the southwest of Ireland and Galicia and northern Spain were very strong and very much appreciated in that part of Spain.
Breanndán Begley said at first it was suggested that they burn the boat.
"I pleaded for the naomhóg to be saved, as it saved all our lives and it brought Danny back to shore," he said.
"It is like an emotional healing to see it coming together again," he said. "At the time of the capsize, the boat looked like how I felt, but now it looks like how I am feeling now."
The naomhóg has Danny "written all over it," he said.
"This boat was with Danny on all our voyages from the river Nore to the Camino at sea, and I remember how we spent five nights among big yachts that never moved off their berths in the marina at La Rochelle in France. And there was this tiny naomhóg, darting in and out to sea along the coast. And now it is returned to its former grandeur," he said.