The small community of Baile an Sceilg in Co Kerry has celebrated the opening of a new post office.
Following the retirement of the local postmistress, the contract for Baile an Sceilg (Ballinskelligs) had been among 159 post offices earmarked for shutdown as part of An Post's cost-cutting measures.
However, the announcement sparked an intense community campaign against the decision.
If Baile an Sceilg was closed the nearest alternative post office would have been 13km away in Waterville or 15km away in Cahersiveen.
Last September, more than 200 people packed the parish hall to voice their objection.
An appeal submitted to An Post by the Baile an Sceilg community group was successful on the basis that if closed the South Kerry Gaeltacht area would be left without a post office.
Baile an Sceilg's new post office opened today in the Browne family's shop.
Mícheál Ó Braonáin of Comhchoiste Ghaeltacht Uíbh Ráthaigh said the reinstatement of Baile an Sceilg post office was a victory for the people, but also for the Irish language.
"It shows you people power works," he said.
"We were downtrodden but we fought back. As the old saying goes 'Tír gan teanga, tír gan anam' (a country without its language is a country without a soul.) Our heart is gone if our services go on us. We might as well close down."
Máiréad Browne, owner of the new post office said the family has made a considerable investment in renovating the shop to make it suitable for the requirements of a post office.
"We are delighted to accommodate the post office. I'm sure it will be well supported. We're thrilled that it hasn't left the area. There are so many rural areas that have been affected by cutbacks."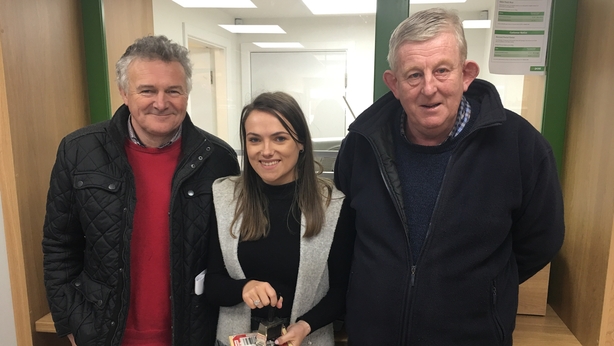 James Pháid Ó Súilleabháin, who lives alone and does not have transport, said he was delighted to see the post office being retained in the parish.
He said: "I do all my business here. I pay my bills and get my payments here. Apart from that you meet people in the post office, a bit of company. That's fierce important for the likes of me, and especially for the elderly in our parish."
Business was brisk today in the new post office, including a large consignment of shamrock produced by a local horticulturist.
Joe Ó Siochrú's shamrock will be presented to US President Donald Trump by the Taoiseach as part of St Patrick's Day celebrations in the White House.
"Today I'm posting some of our online orders. In this batch we have shamrock going to the UK, the US and we even have a package going to Hong Kong today. It's great that I can still send my orders from here in my own parish," he said.
Local TD Michael Healy Rae said it was vital that crucial services in post offices are maintained.
"The one message that I would have to central Government is this - the central contract for social welfare payments has to keep coming through local post offices. Because if it doesn't the whole network will collapse," he said.
Of the 159 post offices earmarked for closure by An Post, four have been retained following successful appeals.
These are Ballycroy in Co Mayo, Cliffany in Co Sligo, Clogheen in Co Tipperary and Baile an Sceilg in Co Kerry.