The Bishop of Cork, Cloyne and Ross has dedicated a new war memorial and remembrance chapel at St Mary's Collegiate Church in Youghal in memory of those who died from East Cork and West Waterford in the two world wars.
At an ecumenical ceremony, the names of 200 local-born people who perished, comprising 154 from WWI and 36 from WWII, were read at the ceremony. 
Dr Paul Colton dedicated eight panels bearing the names of these people before they were installed in the newly-renovated Remembrance Chapel.
Representatives from the Army and the Naval Service, the Connacht Rangers, the Munster Fusiliers and the RNLI attended the service, as well as political and civic leaders.
Fine Gael MEP Deirdre Clune laid a wreath on behalf of the people of Ireland. 
Relatives of those who died carried candles representing the combined total of the world war years.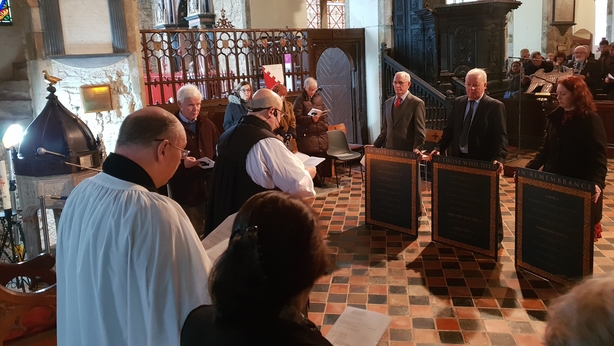 The memorial is the product of years of research by local men Norman MacDonald and Billy Healy, who uncovered the names of around 900 people from Youghal and the surrounding districts who signed up for WWI. 
The youngest recorded name of those who died is 16-year old Private David Cropley from Ballycotton in Co Cork.
The oldest is 65-year old Lieutenant Walter Croker-Poole from Ardmore in Co Waterford, whose pilot boat hit a mine at the mouth of the River Mersey. 
Another tragic mine disaster saw Five Royal Navy Reserves from Youghal die when HMS Laurentic hit German mines in Lough Swilly on 25 January 1917.