The mother of a toddler whose death remains unexplained says the loss of a child is every parent's worst nightmare, but is so much harder when there is no explanation.
Olivia O'Callaghan was speaking after an open verdict was returned into the death of her three-year-old daughter Ella Martin.
"I'm going to get a death certificate with 'unknown' written on it - that's all I am going to have for the rest of my life - when I thought I was going to have the rest of my life with my daughter".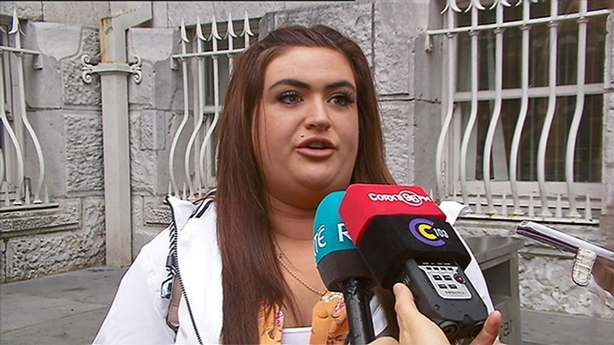 The court was told that Ella Martin, from Mahon Drive, Blackrock in Cork, was a healthy three-year-old with an uncomplicated medical history.
But on 15 September 2015, she complained to her grandmother Christine - who was minding her - that she was feeling cold and her tummy hurt.
She was admitted that afternoon to Cork University Hospital with abdominal pain, fever and nausea and was triaged as 'very urgent'.
Professor Conor Deasy told the court she was seen by an experienced critical care and emergency medicine doctor who noted a 'decreased responsiveness'.
Clinically it was felt that Ella had sepsis, or blood poisoning, and she was treated with fluids and antibiotics.
But, despite their efforts, she went into cardiac arrest and was pronounced dead less than three hours after first being admitted.
Prof Deasy said they expected the cause of death to be sepsis and they treated it as such.
They had considered other diagnoses and looked for other explanations but are at a loss as to what caused Ella's death, he said.
Her blood pressure was high which was the only piece that did not fit with a sepsis diagnosis.
Prof Deasy said all those who treated the toddler were deeply affected and shocked by what happened, and offered their deepest condolences to her family.
Assistant State Pathologist Dr Margaret Bolster told the court that, despite multiple tests and consultations with many experts, no anatomic cause of death could be found for Ella.
Dr Bolster said this is considered extremely unsatisfactory by all involved.
She said that she has had very rare cases where sepsis is seen to have been most likely, but not been found at post-mortem.
She suggested that, due to the rapid nature of the infection, the body's tissue had not had time to respond.
Cork City Coroner Philip Comyn said that Dr Bolster had gone to enormous lengths to establish a cause of death but with no success.
He said the only verdict open to him was an open one.
Speaking afterwards, Ella's grandmother Christine O'Callaghan said they miss Ella every minute of every day.
"That is something we will have to live with for the rest of our lives. Rest in peace, beautiful girl".
We need your consent to load this rte-player contentWe use rte-player to manage extra content that can set cookies on your device and collect data about your activity. Please review their details and accept them to load the content.Manage Preferences