The Status Red weather warning for Munster was downgraded to a Status Orange alert this afternoon.
The snow-ice warning warns that snow accumulations will continue to increase due to further falls of snow.
There have been heavy and consistent overnight snow falls in many parts of the south east.
Waterford city and county has been particularly badly hit.
In east Waterford, farmers reported snow drifts over 10 feet high.
Gritters in Waterford were out since 7:30am this morning. They were concentrating on the Outer Ring Road, the Quays, the N25 and the N72.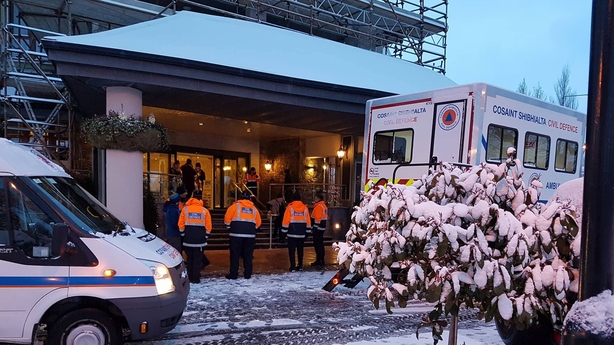 Snow ploughing and salting operations on priority routes in Co Tipperary has been taking place today.
Tipperary County Council said the position regarding activation of other outdoor staff will be reviewed throughout the course of the day and will depend on prevailing weather conditions.
There were also snow falls in Co Clare but amounts were light, as well as in north Tipperary, and gardaí are reporting no incidents or weather-related casualties in both regions.
Many roads in rural Co Tipperary are impassable including the road from Roscrea to Birr.
However roads throughout the mid west remain in a dangerous condition and gardaí are advising the public to avoid driving for much of today.
Snow fell throughout the night leaving up to 6cm of snow across the city and parts of County Limerick this morning.
And while there was a persistent snowfall, the region escaped the blizzard conditions experienced in parts of the East of he country.
It snowed continuously overnight in Co Cork but there was no sign of the blizzard conditions that were expected.
High tide passed before 6am this morning with no reports of flooding in the city and in coastal towns like Youghal and Clonakilty.
At one of the country's biggest hospitals, Cork University Hospital, around 100 nursing staff and dozens of other staff have been unable to attend work today.
Activity at the hospital has been cut back to little more than a core of essential services.
The Army has been assisting ambulance paramedics dealing with emergency calls in west Cork, particularly in Bantry, overnight.
They are using six-axle trucks to access otherwise inaccessible areas to transport patients to Bantry Hospital.
Hundreds of people in Mallow are without water today due to a power outage at the local water treatment plant, with a loss of pressure for some customers due to a drop in reservoir levels.
A number of customers in Charleville have also had disruptions to their water supply due to low water levels at the Kilaree reservoir.
Some areas in West Cork are also experiencing low pressure and/or loss of supply including Allihies, Coolineagh and parts of Baltimore.
A number of burst pipes have been reported in the Cobh area.