A man has died following a parachute jump off the Cliffs of Moher early this morning.
The incident happened at around 7am at the Aill Na Searrach part of the cliffs range in Co Clare.
Three men had gone to the area to undertake a so-called 'base jump'.
Base jumping is when people jump from a fixed structure or cliff wearing a parachute or wingsuit.
It is understood the first man completed a safe jump, however the second jumper fell on to the rocks below.
It was not immediately clear whether his parachute failed to open or deployed too late for the man to land safely.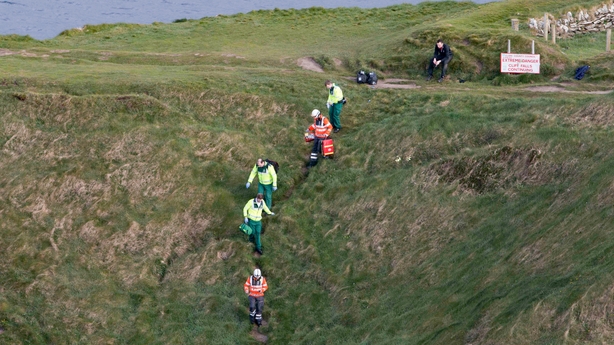 The Irish Coast Guard was alerted while an ambulance, rapid response advanced paramedic unit and gardaí responded to the scene.
The Doolin Coast Guard rescue boat was able to get close enough to the cliff base to allow three members make their way ashore.
Weather and sea conditions were also favourable enough to allow Rescue 115 winch a crew member on the shore below.
The man was airlifted onto the helicopter and flown to Galway University Hospital where he died.
Gardaí at Ennistymon are investigating the incident.