With up to 20,000 visitors expected to line the fairways and greens of Mount Juliet daily for the next four days, the surrounding region is in for an economic boost following a Covid-dictated hiatus.
The Horizon Irish Open did go ahead last year at the Co Kilkenny venue, but with limited crowds as the country was still emerging from restrictions imposed because of the pandemic.
This time around Mount Juliet Estate near Thomastown can host capacity numbers of spectators. Already the weekend tickets are sold out, with 20,000 tickets per day and sales are heading that way for Thursday and Friday, although some berths are available at the moment.
Today was the turn of the pro-am part of the week when the professionals' team up with celebrities and other "amateurs" to provide the latter with a taste of competitive action while giving the pros a bit of tuning up around the course.
Although Rory McIlroy is not taking part this year, the event does boast the ever-popular Shane Lowry as well as high-flying Seamus Power from west Waterford along with Padraig Harrington following his success in the US Seniors Open at the weekend.
There is also a cast of hundreds from across the Irish pro and amateur ranks and the elite levels of the DP World Tour, successor to the European Tour.
"It's terrific, absolutely terrific," championship director with DP World Tour, Simon Alliss, said.
"We put a lot of plans in place in 2020 and they got cancelled because of Covid. We got great support through all our partners, especially Mount Juliet here, and we managed to have a great event last year, but we had limited crowds and all sorts of other restrictions and difficulties.
"To be back here, this week, with this extraordinary [sunny] weather again today, with crowds and not just the smiling Irish eyes but also the whole face without the masks, is really special."
General Manager of Mount Juliet Estate Mark Dunne said it's "really special" to be hosting the Horizon Irish Open for a second year in succession, 27 years since the venue was host three times on the bounce.
"Hopefully in or around 70,000 to 80,000 people will come through the gates over the next couple of days. World-class golf, an amazing festival experience, the entertainment schedule is really, really good, so we're just going to have a really and time.
"It's immense," for the region, he added.
"You can feel it in Kilkenny, you can feel the atmosphere building all the way in today, with the first number of spectators coming in. The feedback locally is that we're welcoming everybody with open arms, from signage, to golf balls to bunting it's everywhere, it's really activated."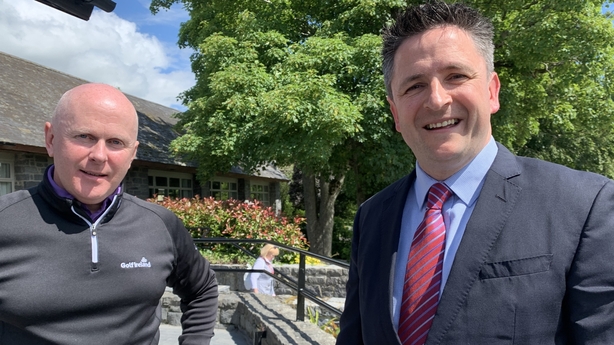 Martin Donnelly, director of golf tourism with Fáilte Ireland, said golf tourism was worth €300 million to the Irish economy in 2019 and, following a two-year slump and recovery, the figure could be close to that amount for 2022.
"The event is beamed into 350 million homes worldwide. There's probably no better platform to show off Ireland as a destination," he said.
Fáilte Ireland said today that Ireland's reputation as a "good-value" destination is important and one that the tourism industry needs to be "very conscious of".
The comments come amid claims recently of price-gouging in the hospitality business in Ireland and, specifically, homeowners wanting sums amounting to tens of thousands of euro, for their properties from golf fans this week.
"Ireland remains a very popular destination for golf tourism," Mr Donnelly added.
"I talk to golf tour operators every day of the week almost and they're saying that their clients keep coming back, we have 60% and 70% of the visitors coming onto this island are repeat visitors, and they still feel that they're getting value for money and Ireland remains a competitive golf destination."