A global pandemic was never going to stop Eibhlin Fitzpatrick from opening her first business and setting about changing people's shopping habits.
The Westmeath woman was due to open her eco shop 'The Refill Mill' in Mullingar in March 2020 when her plans had to be shelved.
"I basically signed the lease just before Covid hit," she said. "I was just about to open and then obviously I wasn't able to do that, as we all went into lockdown."
Undeterred, Eibhlin pivoted the shop into an online business.
"But as soon as I was able to, in July of that year, I decided to just go for it and open the shop," she added.
"Even then I was terrified as I didn't know what was really going to happen with the lockdowns. Looking back, I'm really glad I did open then. I think the pandemic gave people the chance to think about the waste they were creating and the effects they were having on the planet."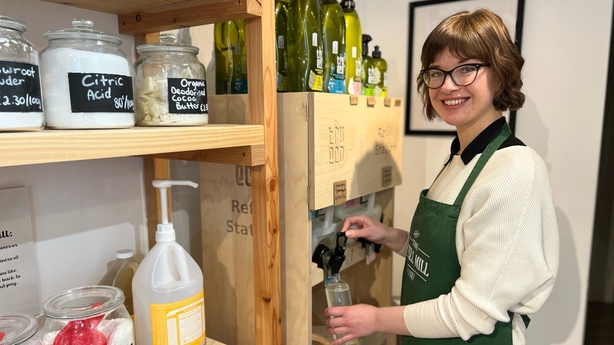 Eibhlin's own lightbulb moment came several years ago. While she was travelling, she saw how people in other countries were responding to the climate crisis by recycling and upcycling and shopping in zero waste shops.
"I just saw how different communities had more eco-friendly lifestyles. Sustainability seemed to be at the forefront, whereas we are quite a wasteful society. When I came home, I was incredibly frustrated that I didn't have those options. And I really felt I needed to do something about it."
'The Refill Mill' sells a range of pantry items and dry food, cleaning and laundry refills and sustainable cosmetics and refills. A section is dedicated to plastic-free, reusable menstrual products.
"There isn't another shop like this in Westmeath. We try to show people that there's a way to reduce their single-use plastic and focus more on reusable products - many of which are local or Irish.
"We ask people to bring in their own containers which we will weigh, fill and then reweigh. So, you are basically paying for the products, rather than the packaging, marketing and recycling."
Ireland currently recycles 31% of all plastics, but that needs to increase to 50% by 2025 to achieve EU plastic recycling targets.
"I hear a lot of people say that it can be a bit daunting coming into a shop like this. They say they are overwhelmed by the amount that we as humans need to do for the environment. And they almost feel they should do nothing because of that feeling.
"But I feel that when they come into us, they experience the small things they can do. And they change their mindset. It gives them a little bit of hope that we can all make a difference."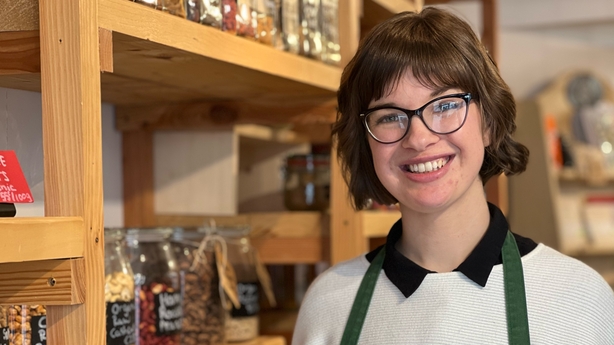 Recent newspaper reports in the UK have highlighted how some shoppers are losing interest in zero waste lifestyles, leading to the closure of several refill stores.
Eibhlin admits that launching 'The Refill Mill' was "one of the hardest things" that she has done.
However, as she approaches the second anniversary of the physical shop's opening, her enthusiasm is undimmed.
"This is my business and I love it. It's my passion project and it's not like coming into work each day.
"We are seeing more zero waste shops popping up all over Ireland. And there's a real community of shop owners too. Every day, I hear people saying they are sick of plastic. And they want change. I believe we're on the wave of something new here and people are soon going to start demanding change," she said.
In our 'Climate Heroes' series of reports, we shine a light on the people who are stepping up to protect the environment and tackle climate change. While these people come from all walks of life, they share a common purpose to improve the world around us.