Campaigners have expressed dismay over a recent decision by Meath County Council to allow one of country's biggest meat processing companies discharge commercial waste water into the River Boyne.
The plan will need approval from An Bord Pleanála before construction can begin.
Concern has been raised that water quality for more than 70,000 homes and businesses could be at risk if the proposed pipeline gets the go-ahead.
Residents, businesses, and angling groups have raised a number of health and environmental concerns.
"We had 500 pristine rivers in this country and in 30 years that has been brought down to six," explained Peter Whelan, who is chair of the Save the Boyne campaign group.
"Now if we don't look after the rivers that we have our future generations won't have drinking water and that's how serious it is," he added.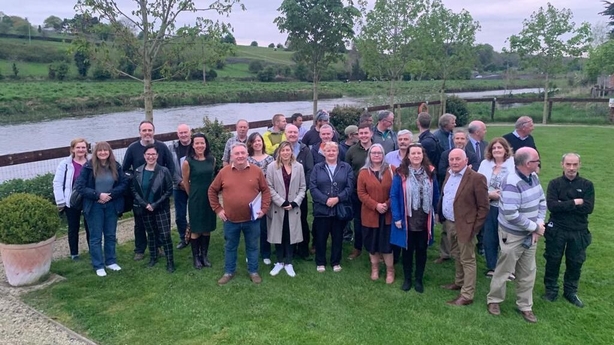 More than 70,000 homes in East Meath and Louth get their drinking water supply from the River Boyne.
Residents, businesses and angling groups have raised a number of health and environmental concerns.
More than 400 submissions were made to the council opposing the plan.
"We feel that there were 414 submissions made to Meath County Council, and we weren't considered. There was absolutely no engagement," said Mr Whelan.
A Facebook page set up to highlight the issue called 'Save the Boyne' currently has more than 9,000 followers.
Gillian Toole is a local independent councillor, who works as a pharmacist locally.
"This is about getting a balance. It's about balancing our economic development with our agricultural needs, with our food production but also with our water quality and our public health," she said.
Residents are concerned about the possibility of an accidental outage at the meat plant which they say could lead to a serious environmental incident in the River Boyne.
They believe the meat processing company could have explored other options.
"Dawn Meats could have looked at water reeds. They're a good company, they take cattle from our local farmers, and we have no problem with them, but we feel they didn't look at alternatives," said Mr Whelan.
"We feel very strongly about this. We're going to go all the way with this. We're in this for the long haul and if we have to go to Europe we will," he added.
In a statement to RTÉ News, Dawn Meats said it takes the concerns raised by the local community very seriously.
However, it said it believes its plan "will deliver safer water treatment to best practice environmental standards".
"Wastewater treatment facilities of this nature are a standard feature of food processing plants throughout the country, and this plant will be one of the most modern in Ireland when built," the company said.
"Third-party studies, including a Natura Impact Statement, have assessed no negative impact on the River Boyne or surrounding habitats," it added.
Dawn Meats said the new facility will be subject to regular monitoring by the Environmental Protection Agency, in accordance with licensing requirements.