The Heritage Council has said it is dismayed by damage to Neolithic monuments at Loughcrew in Co Meath.
Photos posted on social media show graffiti scratched on one of the cairns at the site, which is in Oldcastle.
The megalithic tombs date back to 3200 BC.
The cairns stand on the highest point in Co Meath.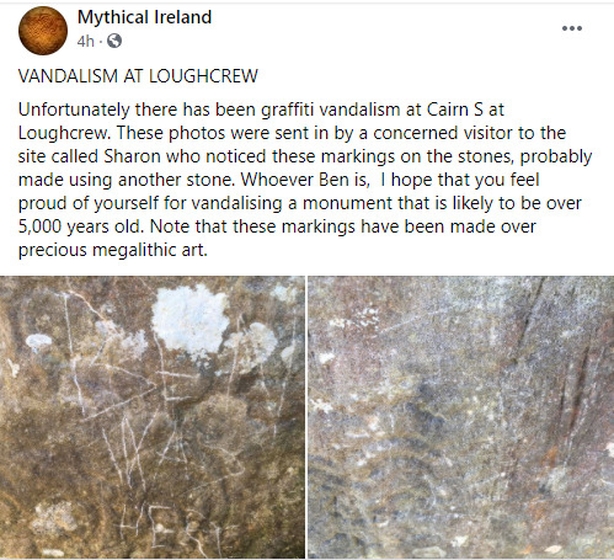 The Department's National Monuments Service and the Office of Public Works has said it is aware of the "very regrettable occurrence".
Initial investigations have been carried out to determine any appropriate measures that may be taken to mitigate the damage to the Neolithic burial monument.
This is the latest in a series of such incidents at Loughcrew.
The NMS and OPW will be gathering all available evidence for transmission to an Garda Síochána with a view to those responsible being prosecuted.
Heritage minister Malcolm Noonan condemned the incident.
"Our heritage sites provide important accessible spaces for the enjoyment and benefit of the public and it is shocking that anyone would think it appropriate to damage decorative stones left by our ancestors from thousands of years ago.
"I condemn such mindless vandalism at one of Ireland's most significant archaeological monuments and we will do all we can with our colleagues in the OPW to ensure that the culprits are identified and brought before the Courts."