The owner of a Golden Eagle is appealing to the public for help in locating the 12-year-old bird of prey, who has not been seen since last Wednesday.
Speaking on RTÉ's Morning Ireland, John Nugent from Co Wicklow, said 'Kalin', went missing after undoing his leash and flying off.
He said the bird has never hunted for food or been out in the wild before.
"It's day five without food so I'm worried sick," he said.
We need your consent to load this rte-player contentWe use rte-player to manage extra content that can set cookies on your device and collect data about your activity. Please review their details and accept them to load the content.Manage Preferences
Mr Nugent said Kalin would normally have a tracker on him when he is flying, but not when he is resting, so he did not have one on the day the disappeared.
He said: "This bird has never hunted, he's 12 years old, he has never been out in the wild at all. He's never hunted live for food. His favourite food is chicken legs from a supermarket. He feeds from the hand all the time.
"I was trying to rehabilitate him to let him fly free, so that he could come back whenever he wants to my hand and then put him in his weathering station."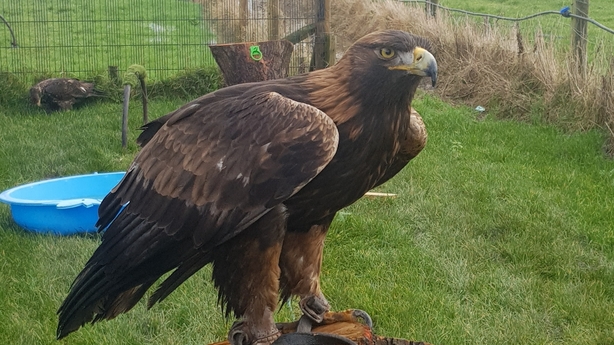 Asked if it was possible that Kalin could have flown home to his previous location, Mr Nugent while it was a possibility, the bird had never flown free in its 12 years.
"He's looking for me as much as I'm looking for him I reckon," he said.
He said he hoped to find the bird somewhere in the Wicklow area and appealed for farmers who may see him over their land not to shoot it.
"Please, please do not shoot the bird. Just give him a chance. He's not a threat. He's never killed, he's not a danger to anybody.
"He could land on a fence post beside you or a shed or a barn as he's used to that kind of area, so take a photograph and send it to me. If there's a sighting I'll be there," Mr Nugent said.