A protest has been held in Greystones in Co Wicklow calling for fishing facilities for three local trawlers.
The fishermen say they have no area to land their catch in the town's re-developed harbour, which has a new marina and a residential quarter.
A meeting is due to take place next week aimed at resolving the row over a mooring location.
More than 200 people took part in a demonstration in support of the local fishermen earlier today.
The three vessels involved were joined by local fishing boats for a protest on the water near the entrance to the harbour.
The skippers, who currently land their catch up the coast in Dún Laoghaire in Dublin, claim commercial fishing boats are being excluded from the new harbour.
Ivan Toole, from the Golden Venture trawler, said they were promised the south pier as a location for local fishermen before the development work began over ten years ago.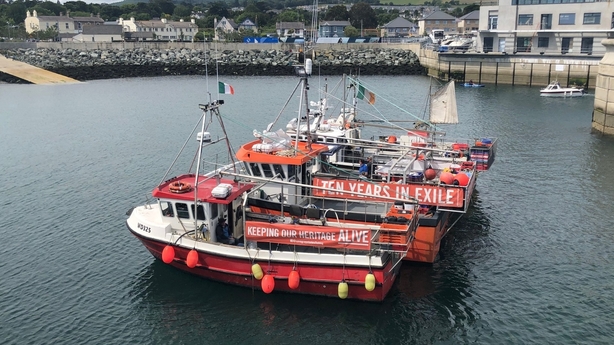 "We actually don't have an area now in Greystones harbor," he said.
"What we want is a fisherman's area. It's what we were promised originally. We were delighted with that at the time," he added.
The Cathaoirleach of Greystones District Council, Tom Fortune, has organised a meeting between the parties involved in the dispute for next Thursday.
He said he believes the fishermen "should have proper access to do their daily work."
Mr Fortune also said Greystones "has been a fishing village for over a hundred years."
He said "it just has to be sorted out."
A spokesperson for BJ Marinas, which operates the harbour, said the company was not making a comment at this time.