Storm Emma has brought snow and high winds to many parts of the country, with Leinster one of the worst affected.
Wicklow is one of the worst affected counties areas with very significant levels of snow.
Snow drifts of up to 6ft in depth are widespread in parts of Westmeath.
The county council has told RTÉ News that many of the local roads in the county are in very poor condition and in many cases impassable.
Crews working on the N4 have just reopened the route west of Mullingar, the county council has advised people not to travel on the roads unless it is absolutely necessary.
Thousands of homes and businesses are without power in counties Dublin, Louth, Meath.
Gardaí said a section of the main road linking Laois and Offaly county towns is impassable.
Gardaí said the N80 is impassable between Mountmellick and Tullamore and "treacherous" between Moutmellick and Portlaoise.
Offaly County Council said that motorists are creating obstructions by venturing out and getting stuck in snow.
The message was repeated by a local garda spokeswoman who advised people not to venture out in cars just to see what conditions are like.
In Co Louth many local roads are impassible because of drifting snow.
In the Ardee area, farmers trying to feed livestock and people attempting to get to work have been forced to turn back by snow drifts.
This is the main road from Ashford to Roundwood in Co Wicklow, completely blocked by snow drifts. Earlier locals had to dig out an ambulance jeep that got stuck in it while trying to transport a patient home. pic.twitter.com/1zSv52hvIi

— Will Goodbody (@willgoodbody) March 2, 2018
Irish Water said it and Louth County Council are working with the ESB to restore power to the Staleen Water Treatment plant as soon as possible.
The power outage has stopped water production at the plant which serves Drogheda and east Meath. The supply to these areas is currently dependent on storage in the reservoirs.
The Lourdes Hospital and other priority health care facilities have been notified.
Irish Water is urging customers to conserve water by not running taps, taking showers instead of baths and to refrain from using dishwashers and washing machines.
Carlow roads remain treacherous. People are being advised to only travel in emergency cases. Hacketstown Borris and Bagenalstown are particularly badly affected.
An IFA spokesperson in Kilkenny said this morning that many of the rural roads in Carlow and Kilkenny are only accessible by tractor.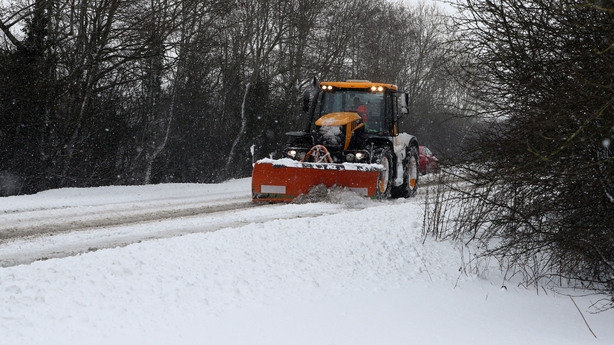 In Co Dublin, AA Roadwatch is reporting that numerous cars were abandoned at the Bóthar Katherine Tynan/Outer Ring Rd (R136) junction due to poor road conditions.
The DAA said the extension of the Status Red weather warning until 9am tomorrow will not affect the reopening of Dublin Airport in the morning.
Dun Laoghaire Rathdown Council said there was some coastal flooding around the Seapoint and Newtownsmith areas of Dun Laoghaire just before lunchtime.
In Co Meath, several roads impassable across the county including routes around Ashbourne, Dunboyne, Kells, Trim.
Meath County Council crews were deployed and snow ploughing is under way to clear main roads, linkages to towns and to motorways.
The council said gritting of routes will start as soon as heavy snow is cleared.
This was the scene in Upper Strand Street in Wicklow Town a couple of hours ago. High tide, coupled with easterly gales and storm surge led to waves breaching the sea defences, flowing into the back gardens and then through the homes along the seafront. (Video: Emily Vickers) pic.twitter.com/x1CgQXQBdY

— Will Goodbody (@willgoodbody) March 2, 2018
In Kilkenny, salting is currently under way on Priority 1 and 2 routes.
Reports are been received that all roads are in poor condition with compacted snow making driving conditions treacherous.
Gardaí in Ballymahon said the main route from Ballymahon to Longford is impassable, at an area known as Terlicken Cross, Co Longford.
Thirty snow ploughs are in operation across Co Kildare, prioritising areas such as hospitals and care homes.
Snow has been cleared from a number of roads and it is hoped roads that are clear can be salted this evening.
Most of the motorway network is accessible, however off-ramps and on-ramps are challenging.
Clane, Kilcock, Naas, Newbridge, Staffan are among the worst-hit areas.
Co Westmeath has been severely impacted by drifting snow, making many roads impassable in both urban and rural areas.
Westmeath County Council said snow ploughs and diggers were mobilised from early this morning to clear snow drifts and all national primary and secondary roads are now passable with extreme care.
However, most regional and local roads in the county are still impassable.
Parts of Wexford were hit with heavy snowfall overnight and through the day.
The HSE National Ambulance Service said that Wexford General Hospital could not be accessed by ambulances for a period, due to snow.
The hospital was snowbound for a time but this has been cleared.
Wexford County Council ploughed a number of key roads including: the N11 from Clough Roundabout to Maldron Hotel Wexford; the N25 from the Maldron Hotel Roundabout to New Ross; the N30 from Enniscorthy to New Ross; and the N80 from Enniscorthy to Bunclody.
The county council said the N11 from the Maldron Hotel Roundabout to Rosslare is currently impassable. Heavy machinery is being assigned to deal with this.
The council warned though that even when ploughed, the roads are only suitable for emergency vehicles, tractors and 4x4 vehicles.