Increasing the supply of social housing, particularly for the most vulnerable, will make a significant impact and the Government must ramp up progress in this area, according to Focus Ireland Life President and founder Sister Stanislaus Kennedy.
Figures in Focus Ireland's annual report show there was a 30% rise in the number of people it supported in 2022 (16,000 people) compared to 2021 (12,300).
1,668 families engaged with services, which was an increase of 9% compared to 2021 (1,527).
By the end of 2022 homeless figures included 3,442 children, a 40% increase when compared to December 2021.
4,235 children were supported across Focus Ireland services - an increase of 27% compared to 2021 (3,338).
The report also reveals what it describes as "a welcome 24% increase" in the number of households the charity either supported to leave homelessness or prevented from becoming homeless last year.
In the report, Focus Ireland CEO Pat Dennigan noted "the flow into homelessness" slowed down and eased due to the introduction of the temporary moratorium on no-fault evictions in October.
However, he expressed fear of a worsening homelessness situation following the lifting of the ban in March this year.
The 2022 annual report highlights the "external realities" of a worsening homelessness situation.
These were "acutely felt" in Focus Ireland's frontline services in 2022 across the country.
Services like the Focus Ireland Coffee Shop - the flagship walk-in day service in Dublin's Temple Bar - had a total of 52,326 visits last year.
Benchmarked against the previous comparable year of 2019 - before the pandemic - when there were around 39,000 visits, that is an increase of 34%.
Sr Stan has called on the Government to take a twin-track approach of short-term and long-term measures to get to grips with "this ever-deepening crisis".
"Two immediate things that could be done are firm action to help keep small-scale landlords in the market, and move to make families who are homeless more of a priority for social housing," she said.
"Our housing system is broken and what any country needs for a working system is a good mix of social housing - bricks and mortar homes built by the State, which would free up tens of thousands of rental homes, stabilise rents and house prices."
Focus Ireland has called on the State to urgently increase the amount of social and affordable housing available by "clamping down" on dereliction as well as rapidly increasing the number of new social homes being built.
In the short-term, it says that more action must be taken to prevent homelessness.
One person supported by Focus Ireland is singer Rob Dawson who was at the charity's Annual Report launch.
Rob sang at the event and spoke about how he was previously homeless and is now housed by Focus Ireland in Limerick.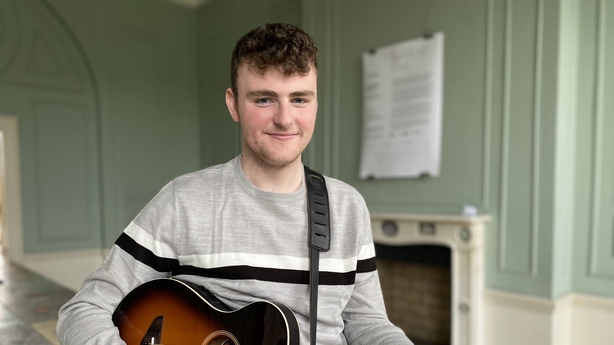 Rob spent his early life in foster care which he described as "traumatic and really difficult".
At the age of 10, his foster mother passed away from cancer, which was a life changing experience. She had taught him adversity and kindness.
He became homeless in his 20s. He told those gathered that the support and advice he received from Focus Ireland helped him get through adversity.
"When I became homeless, I felt anxious and helpless until I found Focus Ireland.
"The support they've given me has been incredible, they helped pick me up off the ground and start again.
"It's such an incredible organisation that is really driven to help people of all ages and backgrounds." , he said.
Rob struggled with his mental health, and his message to young people is to share their feelings and to seek help.
As a singer song writer he has found an outlet for his feelings.
Rob stressed the need for mental health supports, because he said in many cases, mental health difficulties can lead to homelessness.