A Dublin woman who had her right arm amputated following a road collision has spent over 30 years trying - and failing - to access the Disabled Drivers and Disabled Passengers Scheme (DDDPS).
This scheme provides relief from Vehicle Registration Tax and VAT on an adapted car, as well as an exemption from motor tax and an annual fuel grant.
Gráinne Leach, 61, lost her right arm after being knocked off her bike in 1984 as a 22-year-old who "loved playing basketball".
She subsequently learnt to drive in the late 1980s - but when she tried to apply for a Primary Medical Certificate to access the disabled drivers' scheme, she was informed she did not meet the criteria.
The criteria to qualify for a PMC have remained unchanged since the 1960s and are, the HSE admitted in a letter to Ms Leach, "extremely strict and exclude a lot of disabilities".
Furthermore, the National Disability Inclusion Strategy Transport Working Group Final Report - published last February - noted that the current disabled drivers and passengers' scheme "is no longer fit for purpose" and does not "meet the needs of a significant group of those with a disability and with mobility impairments".
However, Ms Leach and over 900 other people with disabilities are currently unable to appeal for access to the DDDPS because members of the Disabled Drivers Medical Board of Appeal resigned en masse back in November 2021 over disagreements with the criteria.
Attempts to re-appoint a new board have suffered a serious setback with the news that the National Rehabilitation Hospital - which hosts and administers the appeals board - has withdrawn from the process.
This was confirmed by the Department of Finance to Independent TD for Roscommon-Galway Denis Naughten in recent days.
Speaking on RTÉ's Morning Ireland, Ms Leach said her disability had cost her "a lot of money" over the years. She has a disabled driver's licence and drives an automatic adaptive car.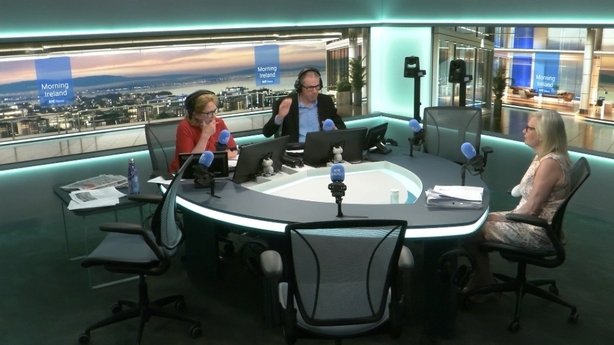 "I was 22 when I had to have my right arm amputated. I have learned to get through all the challenges of life with only one arm. I have reared four children and generally see myself as a positive person.
"But I get absolutely nothing from the Government to help me [with driving]. The criteria [for a PMC] is archaic. On one line it mentions 'permanent disability' - but it also states 'you have to be without both arms' to qualify.
"Well my right arm isn't coming back. I have a permanent disability."
Ms Leach, who works in the HSE, said she has now almost lost the power in her left hand and is undergoing intensive physiotherapy.
"I have been campaigning for people with disabilities to be allowed wider access to the disabled drivers' scheme for over 30 years now. I am exhausted.
"The criteria for a Primary Medical Certificate were set out in the 1960s and need to change."
In a statement, the National Rehabilitation Hospital confirmed to RTÉ that it advised the Department of Finance in February it would be withdrawing its services from the Disabled Drivers Medical Board of Appeal scheme.
It said: "The NRH has recently been asked by the Department of Health to re-engage with the Department of Finance on this matter and the hospital is going to accede to that request."
Speaking on the same programme, Minister for Health Stephen Donnelly said the system of financial help to pay for cars comes down to a matter of tax relief on purchasing adapted cars, which are more expensive.
He said the role of his department is to make sure that the board is in place within the NRH.
He said the board has stepped down but "conversations are ongoing" and a new board was interviewed and has been put in place.
Discussions between Department of Health officials, Department of Finance officials and the NRH are continuing and "what everybody wants to see is two things: a speedy resolution so that the board can meet, and a fit for purpose scheme as well", he said.
He and Minister for Finance Michael McGrath take the issue "seriously", he said.
The Chief Executive of the Disabled Drivers Association of Ireland said the DDDPS is "quite complicated".
Kenneth Fox said the criteria dates from 1968 and were a "guess" at six conditions that "roughly approximate to the people who will need to adapt their vehicles - and 55 years later, it's not absolutely certain that they're targeting people correctly."
He said there is no appeals mechanism and there are around 900 people who have been refused a PMC at the first level and they are all unable to appeal the decision.
He said the only option is for people to wait six months and apply to the "exact same person" - the senior area medical officer level at the local HSE - "that's refused them in the first place."