The National Parks and Wildlife Service is calling on people to take extra care during the current dry sunny spell.
It warned that it has stepped up its enforcement action against those who start fires in mountain or wooded areas.
Speaking on a surveillance flight above the Wicklow Mountains National Park, Ann Fitzpatrick, District Conservation officer with the NWPS, said: "We've been using the services of the helicopter for the last couple of years for firefighting, for actually tackling fires as they are occurring.
"But we're very keen not to let it get to that point, so we're actively engaging in surveillance at the moment during this really dry spell, in this period of an orange fire warning.
"We're really appealing to people not to light fires in mountains, dry environments and also in woodland areas."
The surveillance flights should help reduce the damage done by fires as it will help rangers spot smoke and get into the area as soon as possible.
"The sooner we can detect fire, the sooner we can fight that and reduce the impact on the environment," Ms Fitzpatrick said.
They may also help the NWPS catch anybody who starts a fire.
"We're very much trying to use this eye in the sky to detect any illegal activity," Ms Fitzpatrick says.
She explains some fires are started deliberately to burn off scrub or gorse on hillsides, but it is against the law to burn vegetation in the period between 1 March and 31 August. Others are started by carelessness when people light a portable barbeque or a campfire in the hills.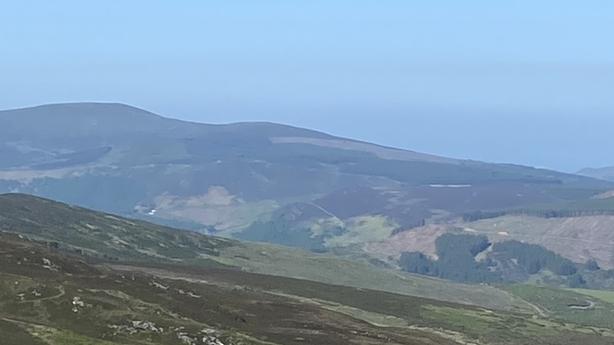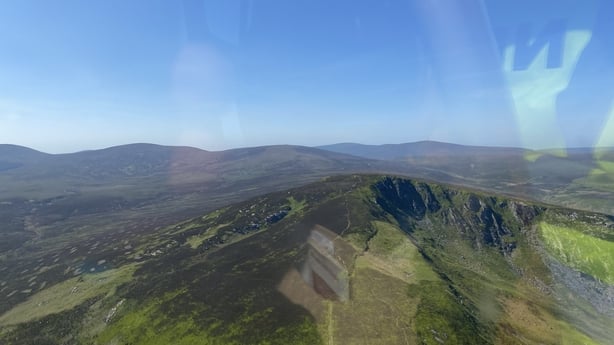 Carbon sources
Conservation Ranger Andrew Butler is patrolling on the ground this week, and like Ms Fitzpatrick, is in radio contact with colleagues.
Mr Butler points out that portable barbeques are banned from the Wicklow Mountains National Park.
He says fire can be very hard to control when the land is dry.
"It can really take hold and it can go right down into the peat, so it can keep burning, even if we think that we have it out. Potentially you can come back the next day and the heat is still there, the fire is still there in the peat, and it will reignite."
Fires are one of the causes of damage to bogs in the national park, which is now so extensive that more than 90% have turned from carbon sinks into carbon sources.
Minister of State at the Department of Housing Malcolm Noonan has responsibility for the NWPS and has secured extra resources for the agency.
He says this issue shows why they are needed: "You're talking about vast tracts of land, very inaccessible land, both in Wicklow and Killarney but also all of our national parks.
"I think the ability to survey the land on that scale ... you know that is resource hungry and it's important we're in a position to do that because of the impact of the fires."
Mr Butler says there is an immediate impact on wildlife in an area particularly insects and ground nesting birds.
"Obviously, the birds themselves can get away, but their eggs and unfledged chicks, they can't get away quick enough, or they can't get away at all ... so that is potentially a generation of whatever birds are in that area, that are gone, that are lost."
Longer term consequences include soil erosion and poor water quality.
On dry heaths on the hills which have been burnt, bracken or grasses can outcompete heather, changing the ecology of the area. Mr Butler says if damage is too extensive, an area may never be fully restored.
'What's the problem?'
Up in the helicopter Ms Fitzpatrick points to bright green grassy spots on the hills.
"A lot of people would say, what's the problem? It's lovely and bright and green up there, lots of grasses, but that's not the vegetation that's supposed to be here. I think that's the real point, you'd expect to see a much greater diversity of flora, life."
She also points out areas of bare eroded bog as areas burnt in the past and says you could fly over any part of the Wicklow Mountains National Park and see the marks of fire damage. "There's been a culture of burning the mountains for generations."
Farmers are being encouraged to manage the land in more sustainable ways through schemes such as the SUAS project started by the Wicklow Uplands Council five years ago.
There is also more enforcement against illegal burning. The National Parks and Wildlife Service reports areas of burnt land to the Department of Agriculture.
To qualify for CAP payments, farmers must maintain their land in good agricultural and environmental condition. They can lose money if part of their land is damaged by fire and there have been substantial payment reductions and penalties over the last three years.
In 2020, the reductions and penalties amounted to a total value of €215,152.
That figure dropped slightly to €208,312 in 2021, but rose to €274,540 in 2022.
Mayo was the county with the highest number of farmers affected, at 40, in 2022 and the financial penalties there, at €90,882.72, were the highest in the country.
Last year in Wicklow, 23 farmers were penalised with the penalties in that county coming to £24,737.90.