The High Court has granted an injunction blocking further strike action at mechanical engineering firm HA O'Neil, a division of Jones Engineering.
Plumbers, pipefitters and welders, who are members of the Unite trade union, had voted in favour of taking industrial action in a dispute over the restoration of a travel allowance.
Earlier this month, pickets were placed at construction sites at Intel in Leixlip, Co Kildare and Pfizer in Grange Castle, Co Dublin as part of a 24-hour strike by mechanical workers at two engineering companies, HA O'Neil and Leo Lynch.
HA O'Neil had sought a High Court order aimed at preventing the strike.
The work stoppage went ahead, but Unite gave an undertaking to the court that no further industrial action would take place pending the decision of the High Court.
Following today's granting of an injunction blocking strike action, Unite said it is considering an appeal of the ruling.
"Unite is examining all options for an appeal, up to and including the European courts," said Unite general secretary Sharon Graham.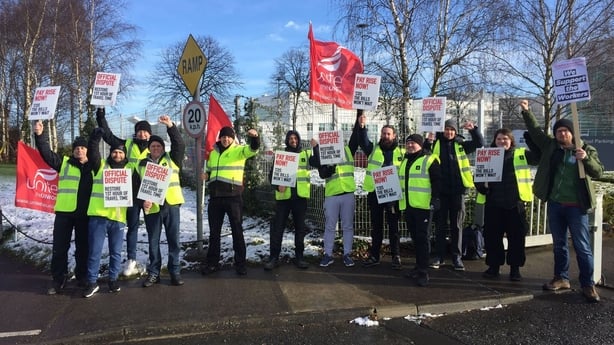 HA O'Neil welcomed the ruling and urged Unite to engage with long-established processes.
"We are proud of our track record of positive and constructive engagement with our employees, and we will continue to support them in this way," the company said in a statement.
Unite said that the first hour of "travel time" was cut as a temporary measure following the 2008 financial crash and that the restoration of the payment would mean an increase of up to 12.8% in gross pay.
The Mechanical Engineering and Building Services Contractors Association (MEBSCA), which is part of the Construction Industry Federation (CIF), said that the workers have received pay increases over the last year and that in 2011 agreement was reached to incorporate the travel payment into hourly pay.
MEBSCA said that Unite's claim for an additional hour's travel was rejected by the Labour Court last year.