Over 200 people have attended a protest in Lismore against the opening of a Direct Provision centre for up to 117 asylum seekers in a hotel premises.
The protest took place in the Co Waterford town ahead of the scheduled arrival in the coming days of 69 people who are seeking international protection in Ireland, with more expected in the coming months.
A group of families and single females are due to be accommodated in the Lismore House Hotel, which was the main tourist accommodation provider in Lismore until it closed in 2016.
However, local residents and business people have expressed unhappiness about the way the situation has developed and what they have described as a lack of consultation between the Government and the community.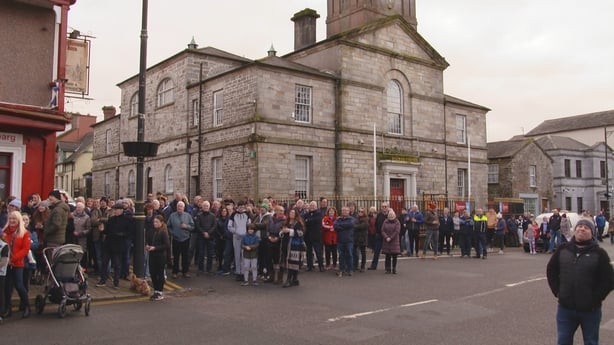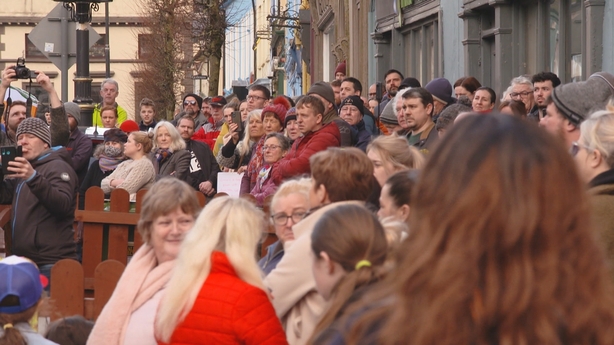 Today's protest on the town's main street, outside the hotel, heard calls for people to contact their local politicians and demand "answers" on how and why Lismore was chosen for a Direct Provision centre, and how the asylum seekers will be provided with essential services.
"We got notification about this about a week and a half ago," Brian Buckley, a local resident and one of the protest organisers, told RTÉ News.
"We've had no consultation with the local people or business community alike, there's no plan in place. I myself have gone looking for answers as to why this decision was made.
"It's not economically or socially beneficial to the town of Lismore and Direct Provision centres don't work. There are numerous reports from organisations - Amnesty International and the like - who say that Direct Provision centres don't work," he said.
"We have taken it upon ourselves to call a protest here today just to let the Government know that we want answers.
"We won't allow the good name of Lismore to be associated with such a system that is the Direct Provision system in Ireland, and is going to stain not only the name of Lismore but the west Waterford and Waterford area," he added.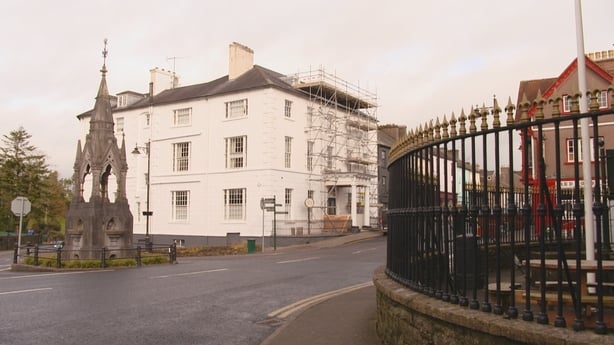 Local shop-owner and member of the Lismore Social and Economic Community Group Joanne Roche said residents were unhappy "at how this has all come to the surface" and said there has been a lack of communication and information given to the people in the town.
"As a community, we're a heritage town - tourism is our livelihood, we rely on it for the successful economy of the town," Ms Roche said, adding that they had been hoping that the building would re-open as a hotel.
"We just feel as a community very much uninformed and we're just worried about the impact it will have on Lismore as a community and as a tourist town," she added.
A spokesperson for Minister for Children, Equality, Disability, Integration and Youth Roderic O'Gorman said today that "owing to the acute emergency situation at present with respect to the urgent need to accommodate those seeking refuge in Ireland," all accommodation options are being considered and utilised.
He confirmed that the capacity in Lismore will eventually be for up to 117 people to be accommodated "on a phased basis," with 69 spaces to be initially filled in the hotel, followed by 26 more in late February and a further 22 in late March.
"Emergency centres have been opened in all parts of the country," the spokesperson said in a statement.
"There have been in excess of 60 accommodation locations utilised in 2022 across 17 counties. These options must be considered to prevent homelessness for the unprecedented numbers of people arriving seeking international protection," the statement added.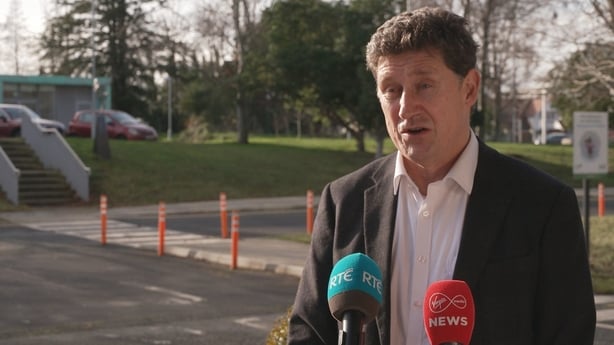 Meanwhile, Green Party leader Eamon Ryan has said it is not good enough for Ireland to tell refugees that the country is full. He said the State has to do more.
However, Mr Ryan also said there would have to be more consultation with local communities about the placement of new arrivals in their areas.
"It's not good enough where you can't provide a bed. But that forces us to do more and to do it in a way that doesn't divide and that doesn't see people arriving to this country getting a very harsh reception. That's not what we want."
He said consultation was a vital part of managing an unprecedented crisis but he added that no one could be happy with the current situation because it was so challenging.
Asked about the finding of a poll in the Business Post that half of those surveyed believed the Government had not handled the accommodation crisis well, Mr Ryan said he would not agree.
He said Minister O'Gorman has done an incredible job providing for 80,000 people.
Mr Ryan said he did not know whether Ireland had breached its international obligations, as alleged by the Irish Human Rights and Equality Commission, but he said such a situation would not be good enough.
We need your consent to load this rte-player contentWe use rte-player to manage extra content that can set cookies on your device and collect data about your activity. Please review their details and accept them to load the content.Manage Preferences
Meanwhile, Minister for Housing Darragh O'Brien has said that it is only "in a very, very small number of cases" that international protection applicants are being left without accommodation.
According to available figures, an average of 20 asylum seekers a day were not offered accommodation when they presented to seek international protection this week.
Speaking on RTÉ's This Week, Mr O'Brien said that these cases were "still not ones we want to see" but he said that "context was really important".
"These have been a very small amount of cases in relation to the overall presentations," Mr O'Brien said.
The State is currently providing accommodation to more than 73,000 people seeking refuge.
This figure includes around 20,000 international protection applicants and 53,000 Ukrainians fleeing war.
81 adult asylum seekers spent at least two nights without state provided accommodation between Tuesday and Friday of this week.
RTÉ News has spoken to one international protection applicant who spent a number of nights sleeping in a basement car park.
Another said that they had returned to the arrivals lounge at Dublin Airport where they had slept.
Yesterday 55 asylum seekers who had spent at least two nights without accommodation were offered places at the Citywest Transit Hub.
However, 26 people who presented on Friday remain without accommodation. Figures for the numbers who were not offered accommodation over the weekend are not yet available.
A pause on offering accommodation to adult asylum seekers without children was announced on Tuesday.
The Department of Children, Equality, Disability Integration and Youth said that that there was a nationwide shortage of accommodation, particularly for international protection applicants, and that the emergency accommodation at the Citywest Transit Hub was at capacity.
This policy remains in place, though the department has said it will be kept under review.