Minister of State for Integration Joe O'Brien has said that "it is absolutely not good enough" that Ireland is breaching its international obligations to International Protection Applicants, by failing to offer accommodation to adult asylum seekers who present without children.
Yesterday the Irish Human Rights and Equality Commission wrote to Government, calling for a reversal of its policy not to offer accommodation to newly arrived adult international protection applicants presenting without children, which it said was in clear breach of Ireland's Human Rights obligations.
Responding today, Mr O'Brien said: "It's extremely serious, I'm not going to debate it, we are very very conscious of the graveness of the situation that we are in. That's why I would plead to all of those we are negotiating with [to source accommodation] to please... help us out."
However, Mr O'Brien accepted that responsibility rests with the Government.
"The key flaw... is that our accommodation system is way too reliant on private providers, we as a State need to be able to have State-owned accommodation whereby we can deal with these flows, we can deal with the ups and downs of people needing protection at an international level," Mr O'Brien told RTÉ News.
According to figures released by the Department of Children, Equality, Disability, Integration and Youth, by this morning 81 asylum seekers who arrived in Ireland this week, were told there was no accommodation available to them when they presented to seek international protection.
However, efforts have begun to contact 55 of them, those who presented between Tuesday morning and Thursday evening, to offer them accommodation at the Citywest Transit Hub, which they can take up from 5 o'clock this evening.
"We had a development in the last few hours that those who were not able to be accommodated between Tuesday and Thursday, they are now being contacted with an offer of temporary accommodation," Mr O'Brien confirmed.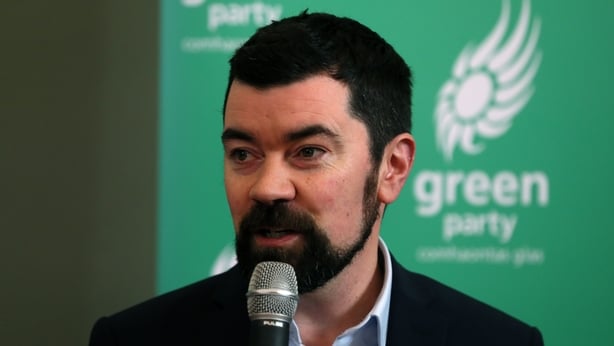 "Unfortunately for those arriving today it will be a similar situation to earlier this week, we may be able to accommodate some of them, but it is unlikely we will be able to accommodate all, but that depends on the numbers that arrive in today."
On Tuesday the Department of Children, Equality, Disability, Integration and Youth said that while asylum-seeking families with children would continue to be accommodated, adults presenting without children would not.
RTÉ News understands that a small number of women are among the group left without accommodation as a result.
The department said that the policy was being put in place because the Citywest Transit Hub was at capacity and there was a nationwide accommodation shortage, in particular for international protection applicants.
"We are still constantly working, myself and Minister O'Gorman and the officials in the Department with various partners in the private and public sector to develop more temporary options to get us through this phase at the moment," Mr O'Brien said.
Mr O'Brien was attending an event organised by the Irish Refugee Council, launching a youth-led educational booklet on the experiences of people seeking international protection called "Tight Spaces"
Emergency Accommodation at the Citywest Transit Hub remains very full with 860 international protection applicants staying there yesterday morning, according to figures released by the department.
RTÉ News understands that the transfer of some people who were staying at the centre to accommodation secured elsewhere has resulted in spaces at the Citywest Transit Hub being offered to those refused accommodation earlier this week.