There were 746 traffic incidents involving e-scooters recorded on An Garda Síochána's PULSE system last year, an average of 14 per week, according to new figures from gardaí.
The figure is up 106 on 2021, when 640 traffic incidents were recorded.
Twenty-eight incidents have so far been recorded on PULSE since the start of this year.
The figures also show that 554 traffic collisions involving e-scooters were recorded on PULSE since 2020, while gardaí seized 305 e-scooters under the Road Traffic Act since 2020.
E-scooters are currently illegal to use on Irish roads and footpaths, but legislation isgoing through the Oireachtas which will legalise them here.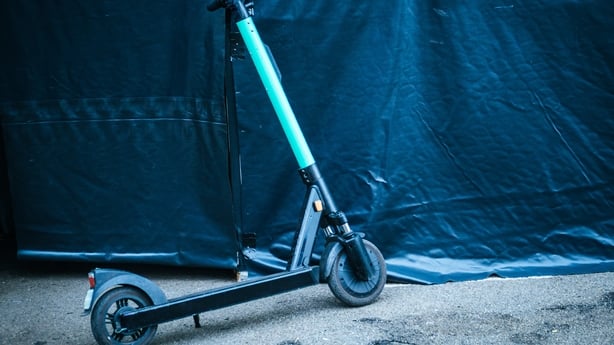 Under Irish law electric scooters meet the definition of mechanically propelled vehicles, which means they cannot be used in a public place without tax, insurance and the appropriate driver's licence.
Since it is currently not possible to tax an e-scooter this means it is illegal to use them on public roads and footpaths.
Personal Injuries Solicitor Liam Moloney said the new legislation will bring clarity to the law around e-scooters.
He said the Road Traffic and Roads Bill, which will regulate the use of e-scooters, proposes to establish a new vehicle category called powered personal transporters or PPTs.
The new category will not only capture e-scooters, but will also allow for new and innovative micro-mobility vehicles that may need regulation in years to come.
The Road Safety Authority was one of the organisations that made submissions to the Government on the new legislation.
Brian Farrell from the RSA said there is a balance that needs to be struck in relation to allowing devices like e-scooters on the roads while at the same time minimising risks for road users.
He say the RSA has recommended that e-scooters be regulated for use on the roads rather than banned and welcomed the fact that the Minister for Transport is now taking that approach.
Mr Farrell said RSA expects that the new regulations will be similar to that of bicycles, once the e-scooters operate below a certain speed.
It also recommended that e-scooters be banned from being used on footpaths, that they are restricted from carrying passengers and luggage and that they are only used by those over 16 years of age.
Charlie Gleeson is the founder and CEO of Zipp mobility, which is one of a number of private companies that are hoping to roll out shared e-scooters once their use is legalised in Ireland, and said he agrees with the recommendations made by the RSA.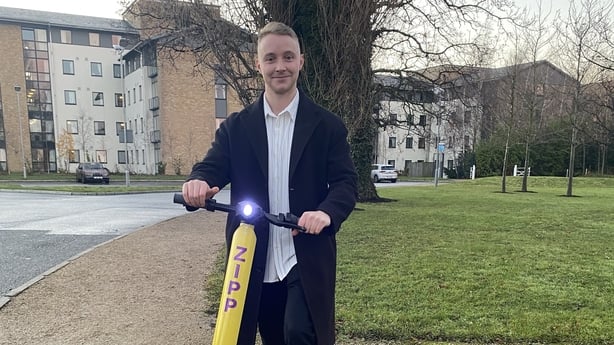 His company already operates e-scooters in Poland and England and users of the service are covered by third party and personal injury insurance, something they would also introduce here.
Mr Gleeson said that on mainland Europe most countries allow both the use of private and shared e-scooter services.
However, the UK is unique in that it only allow shared e-scooter services to operate on public roads and privately-owned e-scooters cannot be used in public areas.
Mr Gleeson said he thinks that will change in the next year and he also expects the new legislation in Ireland to allow for both private and shared e-scooters to be legalised for use on public roads.
He said allowing them to be used on public roads can benefit everyone, as it will help get cars off the road, which will reduce congestion and subsequently reduce emissions.