A number of charity Christmas Day dinners have taken place across the country, with organisers saying demand is higher than ever.
In Dublin, around 5,000 lunches and dinners were prepared, served, and delivered by volunteers for people living alone as well as those in need.
Meanwhile in Cork, organisers of the Cork Penny Dinners said this has been their busiest Christmas ever.
During the pandemic the Knights of St Columbanus were making meals from a pop-up kitchen at the Mansion House in Dublin, but this year they returned to their regular home at the RDS.
Paddy Sheridan, Chair of the Knights of St Columbanus Christmas Day Dinner Organising Committee, said that for the last two years "we were at the forecourt of the Mansion House because we couldn't have the seated dinner due to the pandemic restrictions".
However, this year is their 98th Christmas preparing dinners and around 160 volunteers accommodated over 250 people at the RDS.
"We have two coaches doing circuits of the city, and they come out here and drop the guests off and we serve the three-course dinner," Mr Sheridan said.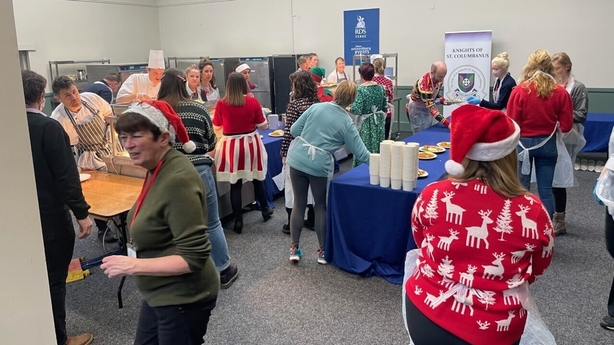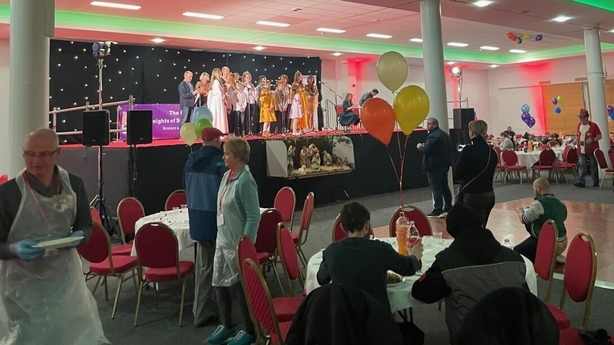 Mairead Ashe was one of the many volunteers helping out at the RDS. She said it is a "magical" atmosphere.
"You know treating people with the dignity and respect they deserve. We get more out of it ... it's a magic time," she added.
For those who could not make it to the RDS, the Knights of St Columbanus also dispatched more than 4,000 Christmas dinners to people living around the city.
In Cork, organisers of the Penny Dinners said that there has been phenomenal support for the service.
Caitriona Twomey, organiser of Penny Dinners, said that demand for meals from people in need was extremely high but that "the Little Miracle on Hanover Street" was still happening.
Ms Twomey said that "the cost of living has obviously impacted people but the amount of love, support kindness and understanding has been phenomenal. Everyone has rowed in to help us and help all who are in need, so we've had our miracle for this year and it's still happening."
Volunteers in Cork started their work early this morning and are preparing dinners well into evening.
Meanwhile, back in Dublin Margaret Brown and her band of volunteers prepared meals for the 36th year of the Dún Laoghaire Christmas Day Lunch.
The team, which was based out of Blackrock Rugby Club, delivered hundreds of meals to people living alone in Dublin.