100 international protection applicants are being moved from tented accommodation in Lissywollen in Athlone today, leaving 25 still living in tents there.
20 were moved from the tented accommodation on the 18 November, and they were among those moved into the old ESB building in East Wall in Dublin.
A further 20 were moved from the tented facility on the 22 November.
A spokesperson for the Department for Children, Equality, Disability, Integration and Youth said that those remaining there would be moved out by the end of the week.
RTÉ understands that they will not be moved to the temporary accommodation in the old ESB building in East Wall, but to alternative accommodation in Dublin.
In November Chair of New Horizon Refugee and Asylum Seeker Support in Athlone, Gerry Callaghan said "physical conditions had seriously deteriorated (in the tented camp) as the weather got colder and wetter".
That month the Department had said it planned to move all international protection applicants out of tented accommodation by the 27 November but difficulties in securing accommodation delayed that plan.
A Department spokesperson has said that moving people out of tents "is a top priority".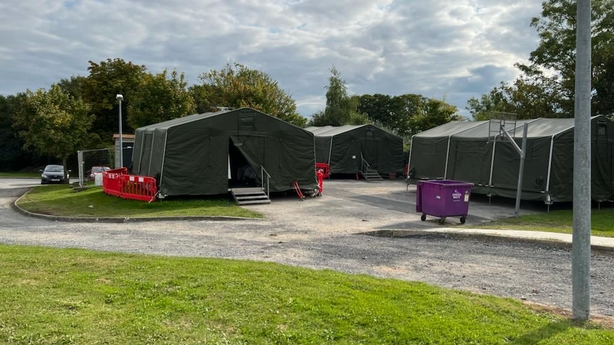 A total of 103 international protection applicants also remain in tented accommodation on the site of the direct provision centre in Knockilasheen in Co Clare.
Met Éireann's Head of Forecasting has said ground temperatures "may hit minus 6C or minus 7C" later this week.
The country is set to experience several days of freezing temperatures, with the forecaster having issued an advisory to such an effect.
In October, the Irish Refugee Council cited "the use of tents" as part of what it described as "plummeting standards in accommodation" for intentional protection applicants and said it was "extremely concerned".