The Minister for Defence Simon Coveney has acknowledged that there are 'huge challenges' when it comes to staffing levels within the Defence Forces.
Speaking at the annual conference of the Representative Association of Commissioned Officers (RACO), which is being held in Kildare, Minister Coveney said the Government did have an ambitious plan to address the staffing issue.
He said that work to identify members of the Defence Forces who are eligible for the Covid Pandemic Recognition Payment has now been completed and that the first tranche of payments would soon be made.
"I can assure you that every effort is being made to ensure that Pandemic Recognition payments are made to eligible Defence Forces members in the shortest possible time frame, and I am happy to confirm that the first tranche of payments in this regard are due to be made on 14 December coming," Mr Coveney said.
Earlier this year, the Government announced a plan to increase defence personnel numbers to 11,500 in the coming years.
We need your consent to load this rte-player contentWe use rte-player to manage extra content that can set cookies on your device and collect data about your activity. Please review their details and accept them to load the content.Manage Preferences
RACO has warned however that current numbers within the defence forces have fallen to around 8,000 and that it does not see how the new target of 11,500 is realistic or achievable under the current policies.
"We are considerably below where we would like to be in terms of numbers, more than one thousand people below," Mr Coveney told reporters at the RACO conference.
But he said this is partly what the Government's new prioritisation of the defence forces is all about.
"Over the next five years, out to 2028, we're talking about moving from spending around €1.1 billion to spending about €2 billion on defence every year," Mr Coveney said.
"This is the start of the most ambitious investment in defence that we've seen since the establishment of the state."
"This is a huge project, it is not going to be done in one year, or six or eight months. It is about turning the tide of reducing numbers that we have seen, it won't be this year, but we hope to do that next year," he added.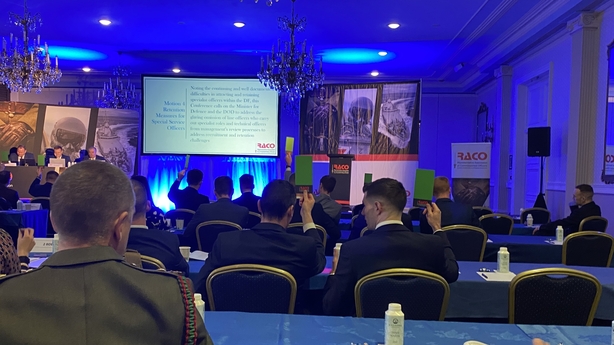 RACO, which represents officers in the defence forces, says there is a recruitment and retention crisis.
"Unless we prioritise retention over this obsession with recruitment it will never happen," RACO General Secretary, Lt Col Conor King said in his address to delegates.
"It's time to value the people who we already have in the organisation," Lt Col Conor King said.
RACO says there are significant problems when it comes to the working time of members, career progression, allowances, staffing shortages and pension arrangements.
A number of motions were passed at today's conference calling on the Government to address the issues currently facing members of the defence forces.