The Minister for Integration has said that lessons have been learned from the first pledged accommodation scheme run to house Ukrainian refugees, and believed that a local authority-led appeal for unoccupied properties "will work better".
Prior to this the Irish Red Cross administered pledges for vacant properties and shared pledges.
According to the latest figures from the Department of Justice, more than 65,000 Ukrainian refugees have fled to Ireland since the war.
Latest Government figures show that the state is currently providing accommodation for more than 50,000.
Of that number, almost 5,500 Ukrainians have been accommodated in 2,066 pledged properties.
However, there have been complaints from those pledging accommodation about the length and complexity of the process.
From 2015, the Irish Red Cross operated a scheme for pledged accommodation for refugees, albeit on a much smaller scale.
"In February of last year we used a system that, as you know had maybe been dealing with 100-150 applications for a year and all of a sudden it got over 20,000 [by April 2022].
"If I was doing it again, we'd do it differently. We've learned from that process and this is why we are bringing in the local authorities for vacant homes from day one," Mr O'Gorman said at the launch of the new appeal.
Within two months of the start of the war in Ukraine, more than 24,000 pledges were made to the Irish Red Cross offering to house Ukrainian refugees.
Ultimately 11,000 pledges were sent to local authorities and NGO partners for allocation.
Of these 4,858 were withdrawn, 2,090 pledgees were uncontactable, 188 were deemed unsuitable,127 were said to be in need of remediation and 234 were deemed too rural.
1,496 remain "in progress".
Of these 969 are described as "viable and available", 249 are "viable and not available" 279 have not been assessed and 1 has not been reported on.
The Irish Red Cross has confirmed that it will continue to process pledges already made to it, as well as new pledges for shared accommodation.
While new pledges for unoccupied houses, apartments or holiday homes will be via the website https://offerahome.ie/ and those offers "will go directly" to the relevent local authority which will carry out the assessment process.
From the 1st of December, the recognition payment for those hosting or providing vacant accommodation to Ukrainian refugees will increase from €400 per month to €800 per month.
This increase will apply both to existing and newly pledged accommodation.
Vacant accommodation pledged under the new scheme should be available for use for at least six months.
Local authorities were involved in the final stages of placing Ukrainians in properties under the Irish Red Cross administered scheme.
Separately, Minister O'Gorman said people have a right to protest, but appealed to those with concerns about international protection accommodation not to target centres where people live.
"I think that people shouldn't protest outside the living quarters of individuals because that can be highly intimidating," Mr O'Gorman said.
He was addressing recent protests about a building being used to accommodate international protection applicants in East Wall in Dublin, and reports of a protest planned in Wicklow town this weekend.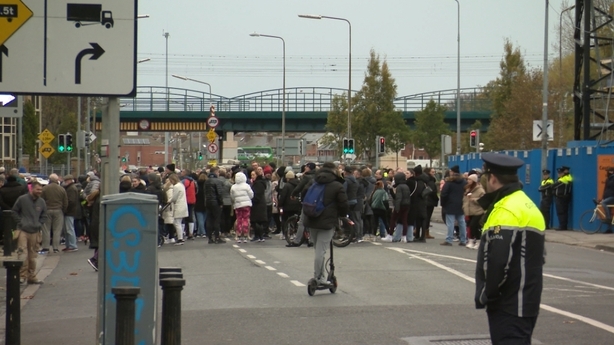 "I know that in East Wall Community groups made an effort to move away from being outside of the building and finding an alternative location," Mr O'Gorman said.
Single male asylum seekers were the first to be accommodated in the building in East Wall, although there are plans for families to also be accommodated there.
The centre in Wicklow town was used for families and is now used for single people and couples.
According an ESRI report released today, 67% of international protection applicants who arrived here at the beginning of this year were men, which is largely in line with previous years.
"We have to recall that men suffer in war too across the world, men are victims, men are victims of torture, men are victims of persecution, men are killed in war and it is not illegitimate for a man to use an international protection process," Mr O'Gorman said.
Mr O'Gorman confirmed that offices had been converted in a number of areas to accommodate Ukrainian refugees and international protection applicants and there "will be further use of office buildings around the country."
He said that Ireland had to meet its international obligations and that this was a crisis.
He said his department was going to have to "do a piece of work in terms of trying to let people know" and "giving them clear information in terms of the numbers coming and the length of time it is going to be used."
Under the new scheme local authorities are committing to turn around applications with seven weeks from when a vacant property is pledged.
Under the new inititiative an applicant should be contacted within five working days of making their pledge, their property should be inspected within the next ten working days, a decision should be made within the next ten working days and if agreed, people should move within the next five to ten working days.
There are also plans to roll out a "community car inititiave" in more rural or more isolated areas where a vacant house or houses may othewise be suitable.
As many homes in such areas may have limited access to public transport, the ititiative is aimed at opening the potential for these homes to be pledged and availed of.