Coastal and inland flooding is the biggest issue facing Ireland at the moment, Minister of State for the Office of Public Works and Flood Relief Patrick O'Donovan has warned.
He was speaking as the Government launched its 'Be Winter-Ready' campaign.
Minister O'Donovan told the conference that while the Government could not eliminate the risk of flooding, it was investing heavily in protecting people and properties at significant risk now and into the future.
The campaign is running for its 12th year and this year flooding is a particular focus.
He said the key message was planning in advance.
He said communities and individuals had a role to play in this and the Government has produced a booklet called 'Be Winter-Ready' with advice on how to protect your home in the event of a flood.
This year's #BeWinterReady campaign was launched today by Min @1Hildegarde and Min @podonovan with Evelyn Cusack of @MetEireann. For info on how to stay safe and well this winter, see https://t.co/BDmj1ZGACN pic.twitter.com/fbzD2EGLnr

— Office of Emergency Planning (@emergencyIE) November 10, 2022
Speaking on RTÉ's Morning Ireland, Mr O'Donovan said there are many places around the country, including Cork city that he worried about and said some people would be forced to leave their homes because of climate change in the future.
Speaking at the National Emergency Coordination Centre, he said 51 flood relief schemes were now protecting over 11,900 properties in Ireland with an estimated economic benefit of €1.9 billion.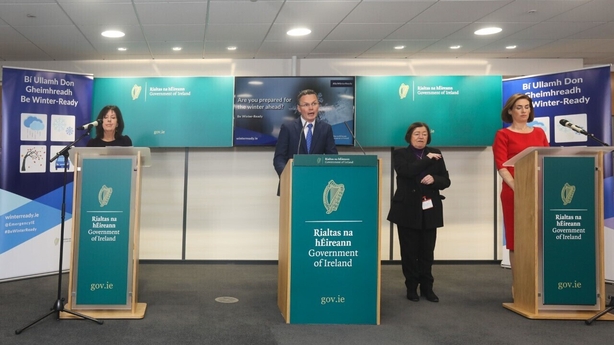 Minister of State at the Department of Transport with responsibility for International Road Transport and Logistics Hildegard Naughton said all transport operators had contingency plans in place for this winter.
However, she said hail was a significant contributor in many road accidents as she called on motorists to adjust their speed during these weather conditions.
Evelyn Cusack, Head of Forecasting at Met Éireann said heavy rain recently, particularly in Co Wexford, had been caused by intense rain which could be attributed to higher sea temperatures at this time of year.
She also said it had been the wettest October on record.